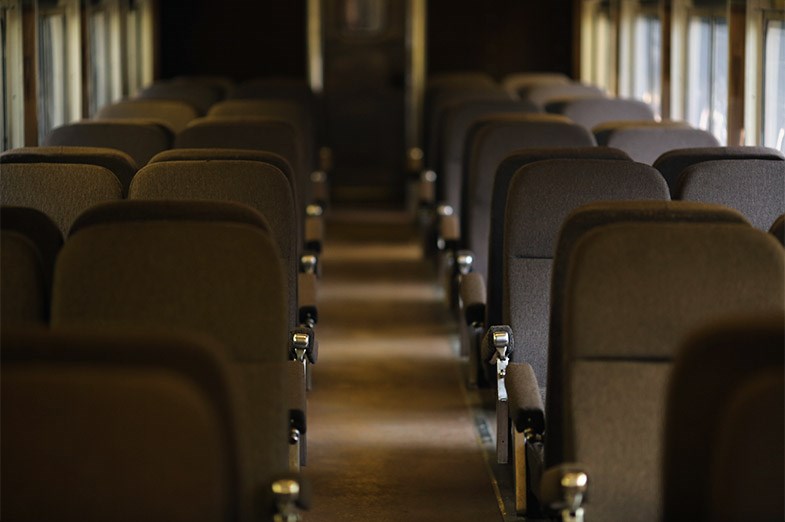 The president of a rail company hiring for the "Sault to Hearst market" says it has deep roots in the industry and continues to pursue another deal with CN in the London, Ont. area for three short-line rail spurs.
B. Allen Brown's company Railmark Holdings, Inc. appears to be the last standing in the bidding process to find a third-party operator for the CN-owned Algoma Central Railway passenger service between the Sault and Hearst.
The federal government pulled its $2.2-million annual subsidy for the local passenger service last year and in December, the ACR Passenger Service Stakeholders Working Group presented a proposal to Transport Canada for a $7-million subsidy over five years as well as asking for approval of a draft agreement between CN and a third-party operator who is interested in operating the passenger service.
That third-party operator has not been officially announced, but Brown, who is expected to be in Sault Ste. Marie this week, contacted SooToday Friday to let the community know about 35 rail-related jobs for the "Sault to Hearst market."
"Railmark has been in business for 16-plus years and one of its subsidiaries has been in business 30 years. During that time we have been in and out of several transactions, but our business has remained consistent with our principals," said Brown, in an e-mail to SooToday.
He told SooToday last week that he has plans for this area "that will far exceed people's expectations."
Brown said Railmark's primary business is rail logistics, with a network of locations in Michigan, Illinois, Indiana, Louisiana and Missouri with "occasional projects in and out of other states."
As recently as January 2015, Railmark Holdings, Inc. announced the creation of a Canadian subsidiary, Railmark Canada Limited.
SooToday asked Brown about two recently closed dinner train operations - the Columbia Star Dinner Train, in Missouri, which closed recently, and the Michigan Star Clipper Dinner Train which ceased operation 2009.
He said the Michigan Star Clipper Dinner Train was closed because Railmark owed $4-million at the time and the State of Michigan's offer to purchase Railmark's land for a train "seemed like a good deal."
"At a time when many U.S. businesses were going bankrupt, including Chrysler and GM, Railmark pulled back its operations and weathered the economic downturn," said Brown.
The Columbia Star Dinner Train, run until recently by Brown operating under the company name Train Travel, Inc., closed last December when the city of Columbia, Missouri cancelled its contract.
The city of Columbia and Brown differ over the reasons for the Columbia Star's demise.
Brown acknowledges the business ran into problems he says were a result of a failed merger between his companies Railmark Holdings, Inc and Train Travel, Inc., and Florida-based TGB Holdings Corporation.
The city of Columbia puts the dinner train's demise on Brown.
"Here we are in the middle of March and we have not heard a word from him (Brown) at all," said deputy city manager Tony St. Romaine in a phone interview with SooToday.
Brown said he has put the Columbia Star Dinner Train on hold until after the Sault Ste. Marie deal, with plans to move the train to St. Louis, Missouri.
St. Romaine said the city is charging storage fees to Brown's company by the day.
"We still retain possession of the train, all of his equipment and sent him numerous notifications and haven't heard a word," St. Romaine said.
Railmark was recently involved in talks to purchase three rail spur lines near St. Thomas Ontario, one of which connected to a closed Ford plant.
Brown told the London Free Press last spring that hundreds of rail-related jobs could be created as a result of Railmark's proposed purchase of the lines from CN.
The developer in talks to purchase the Ford plant was Blue Forest Ventures, whose subsidiary Riversedge Developments is developing the Mill Square site at the former St. Marys Paper mill in Sault Ste. Marie.
The Blue Forest deal with Ford reportedly fell through at the end of January.
"It was dependant on the deal between Blue Forest and Ford going through. I am surmising Railmark is not interested any more," said Alan Smith, economic development manager for Elgin County.
However, Brown told SooToday that the potential CN deal in southwestern Ontario is not dead.
"The London project is slated for July at CN's request. CN wanted to finish the Sault Ste. Marie project first," Brown said in an email.
A plan to house the local passenger rail station on Riversedge's Mill Square site is among the proposals to reinvigorate the line.
Calls to MP Bryan Hayes and Tom Dodds of the Sault Ste. Marie Economic Development Corporation were not returned on Tuesday. Transport Canada declined to answer requests for information about Railmark because they are a privately-owned company.
(FILE PHOTO: A passenger car is seen empty between Searchmont and Hawk Junction during ACR 100th anniversary trip from Sault Ste. Marie to Hearst, Ont. May 31, 2014. Kenneth Armstrong/SooToday.com)