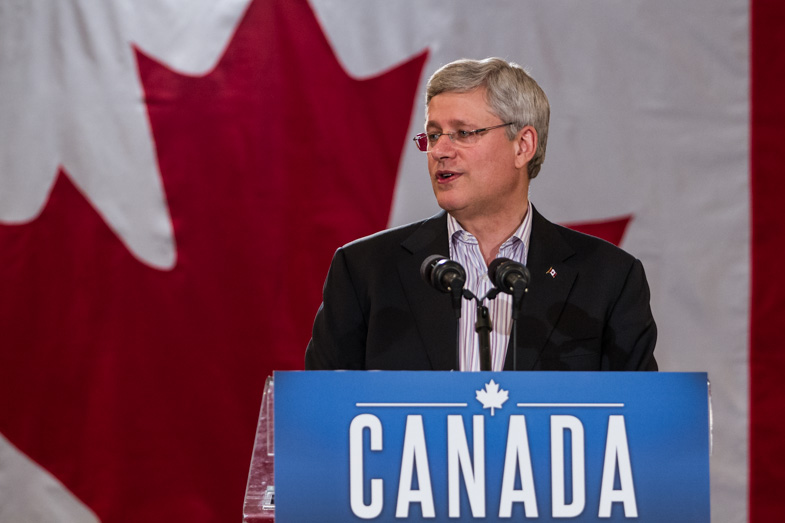 The next federal election is not scheduled to take place until the fall of 2015, but Prime Minister Stephen Harper seemed to be already in campaign mode as he made a speech to Conservative party members, supporters and local business figures gathered at the Delta Sault Ste. Marie Waterfront Hotel Friday evening.
Referring to northern Ontario Conservative MPs such as Sault MP Bryan Hayes (who delivered a welcome speech), Jay Aspin and Greg Rickford, Harper said "these people are very talented, they have a real passion not just for the communities they serve but for our great country and in Ottawa they're doing everything they can to make our goal of a stronger, safer, better Canada a reality."
Harper spoke of his government's record in regards to the economy, security and Canada's role in the world, and initiatives designed to benefit Sault Ste. Marie.
"Slowly but surely we have been growing and we have the job numbers to prove it."
"Since the end of the recession the Canadian economy has created over 1.1 million net new jobs…these jobs are high-paying, full-time private sector jobs," Harper said.
"In this region we've improved Highway 17 and the Sault's airport and since our government came to office the city has received more than $30 million in funding from the federal gas tax fund which is used to improve roads and other infrastructure, put money in the Algoma Central Railway and we're investing heavily in planning and developing a new industrial port right here in Sault Ste. Marie."
The Port of Algoma project is expected to create 1700 jobs, once fully developed.
Harper also spoke of federal funding which has gone to the Sault Ste. Marie Innovation Centre and Sault College's aviation program.
In campaign style, while promoting his own government's fiscal management, Harper criticized the New Democrats and Liberals as reckless spenders who would raise the federal deficit and taxes.
In regards to security, Harper spoke of measures taken by the Conservative government on public safety and criminal justice.
"For too long the criminal justice system was twisted to make the rights and the welfare of the criminal its central concern, so we said 'do the crime, do the time,' and we have said that through numerous pieces of legislation…the crime rate is finally moving down in this country."
Harper said the opposition parties have not supported any of the government's crime bills.
"For them the criminal justice system is about the criminal…that's how they think," Harper said.
"For us (Conservatives) the justice system does not exist for the sake of the criminal, it exists for one purpose, to protect law abiding citizens, their property and their families."
Harper also said the former Liberal government's long gun registry, considered a burden to law abiding long gun owners and scrapped by the Conservative government (with a greater focus on cracking down on illegal hand guns), will not be brought back "through the back door."
Recently, some long gun owners were surprised to receive sudden notices informing them their guns were reclassified as illegal to possess.
Harper said those sudden notices were the result of "the arbitrary stroke of a bureaucrat's pen."
"That is completely unacceptable and the owners of those guns will not face prosecution, and we are taking all actions necessary to ensure the bureaucrats, the Liberals or the NDP for that matter, cannot bring back the long gun registry…we are not going to let that happen."
To that end, Harper said, the government brought forward the Commons Sense Firearms Licensing Act.
Harper also repeated the Conservative government's stand on foreign policy issues.
Harper said "Canada is at its very best" when standing with Israel and Ukraine and the challenges they face, while criticizing the opposition parties as neutral in their thinking and unwilling to take strong positions.
Earlier Friday, Harper attended a moderated question and answer session pertaining to conservation issues with the Ontario Federation of Anglers and Hunters at Algoma's Water Tower Inn, accompanied by Sault MP Bryan Hayes.
Friday marked Harper's third visit to Sault Ste. Marie as prime minister.
While the auditorium at the Delta Friday evening was packed with an enthusiastic audience, not everyone in the vicinity was applauding.
A group of women stood across the street from the hotel, near Station Mall, calling on Harper to address environmental issues by holding signs and chanting 'save our water, save our land.'
(Photo: Prime Minister Stephen Harper delivered remarks to party members and supporters at the Delta Hotel in Sault Ste. Marie on October 17, 2014. Donna Hopper/SooToday)