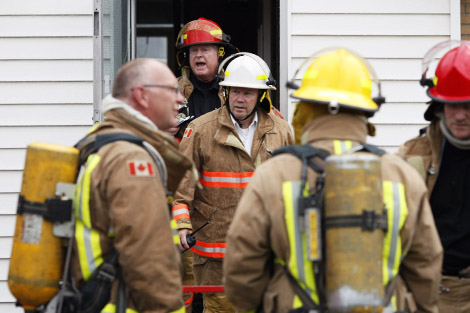 On the same day Sault Ste. Marie's fire chief cited Calgary's plan to reduce the number of firefighters per truck, that city's council struck down the idea.
In September, Calgary city council considered options to find savings in its own fire services, including a reduction to three-firefighters per truck from four.
The president of the Calgary local of the International Association of Fire Fighters, Mark Carter, said his association's involvement in the city's process to cut costs aided in greater public and firefighter safety.
"[Calgary city council] took a holistic 360-degree look at the situation, not just one perspective. By doing that they made sure they had all the appropriate information to make the appropriate decision for the people they represent in our city," said Carter.
Calgary's council opted to defer the motion for two months — allowing for public consultation and for firefighter unions to make their case against cuts.
At Monday's Sault Ste. Marie city council meeting, Fire Chief Mike Figliola presented a letter to council which stated, 'the City of Calgary is currently moving to a 3 firefighters per truck model.'
But it seems Calgary's city managers thought the move to three-firefighters per truck would have been too risky, and did not recommend it.
During a meeting of Calgary's Community and Protective Services Committee held earlier this month, chief city planner Rollin Stanley said it was 'absolutely critical' that four firefighters be on every truck.
The City of Calgary hired a consulting firm to find efficiencies in the city's fire services.
The consultants undertook a comprehensive risk assessment as part of their report.
Although council there did accept many of the consultant's recommendations, it rejected the move to three-firefighters per truck citing public and firefighter safety.
Calgary's proposal to move to three firefighters per truck was to have been introduced as an 18-month pilot project before being struck down Monday.
Sault Ste. Marie city council's decision to cut 20 firefighters over three years was presented and approved at council on October 26, despite a request from the local firefighters association to defer.
It includes a recommendation from Figliola to reduce four firefighters per truck to three.
During a phone interview Tuesday, Sault Ste. Marie Mayor Christian Provenzano said the motion to cut 20 firefighters over three years by attrition was not 'pushed through' council.
"It was introduced to the union, it was put on the council agenda, debated for hours. If any of the councillors had intended on or wanted to postpone it, they could have postponed it," said Provenzano.
Only three city councillors — Marchy Bruni, Lou Turco and Joe Krmpotich — voted against the motion on October 26.
Councillor Rick Niro claimed a conflict and did not vote on the motion.
At Monday's city council meeting, Fire Chief Mike Figliola answered questions from council in response to a letter by former Ontario Fire Marshal Patrick Burke.
Ward 5 councillor Marchy Bruni asked Figliola about Calgary's plan, and if reducing the complement to three firefighters per truck would require initial responders to wait for backup.
"Even with a four-man crew arriving initially, they can not do an interior attack. You must have a backup crew. So whether you have a three-man crew arriving or a four-man crew, neither crew can do an interior attack until that second truck arrives with a backup crew," responded Figliola.
"You never go inside of a fire without a back up," he added.
Figliola suggested a typical four-firefighter truck complement would consist of a commander, a driver who operates the pumps and two firefighters to man the hoses.
"The only way you can do an interior attack with initial response is if you have six [firefighters] on a truck, said Figliola.
A representative with the Sault Ste. Marie Professional Fire Fighters Association (SSMPFFA) says although an interior attack with six firefighters on two trucks is possible, it would take drivers or commanders off other tasks.
During a firefighter town hall meeting held Sunday, International Association of Fire Fighters 13th District Vice President Fred LeBlanc said it is disappointing that Sault's council did not defer the motion to make cuts long enough for the local firefighter association to present its case.
"Yes you want to rely on your staff and your fire chief as experts — I would think you would want to stop and listen to your front-line firefighters as well," said LeBlanc.
A request for Burke to speak as a delegation at Monday's council meeting was not approved.
Immediately after Sunday's town hall meeting, Burke told SooToday, "it is discouraging when people don't respond and they take the action anyway. To me it shows a real lack of understanding of what the fire service is and how important it is."
Sault Ste. Marie Professional Firefighters Association (SSMPFFA) president Marty Kenopic said the intention of their presentation at the October 26 city council meeting was to ask council to press the pause button on the cuts, and they have not had the opportunity to present their side to the public at large.
"We were there to defer the motion. I had prepared a speech in hopes council could defer the motion until at least the following meeting where we would be able to prepare and defend our reasoning," said Kenopic.
Previous SooToday coverage of this story:
Council votes to cut firefighters, hire additional EMS paramedics
Plan to cut 1 in 4 firefighters a 'bombshell' says union
(FILE PHOTO: Kenneth Armstrong/SooToday)