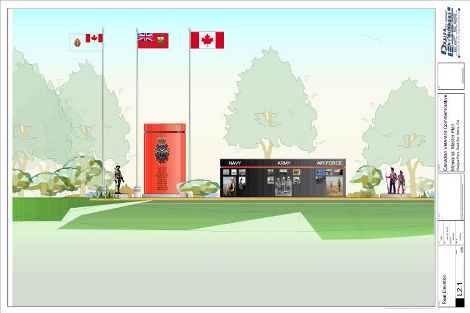 A corporate partner has stepped forward in the effort to make the Veterans Commemorative Monument project a reality.
Tony Dunham, Northern Credit Union senior vice president of sales, marketing and channel management, presented a cheque for $1,500 to Clyde Healey, Veterans Commemorative Monument planning committee chair, at Northern's McNabb Street branch Tuesday.
The money is enough to purchase 10 "bricks," or granite stones, each of which will be engraved with the name and unit of a Sault Ste. Marie and Algoma area Canadian Armed Forces veteran who has served the country throughout its military history.
Each brick will be inset in the monument's Plaza Walk.
The number of bricks to be contained in the monument is expandable as time goes by, Healey said, speaking to SooToday.
Anyone wishing to purchase and dedicate a brick in honour of a Sault and area veteran may do so at thosewhoserved.ca
Rules of eligibility (as to whose name can be honoured) can be found at the same website.
The committee hopes to build the granite and concrete Veterans Commemorative Monument near the Sault's riverfront, at John Rowswell Park.
Healey told SooToday the monument fundraising campaign started in earnest Tuesday.
"The estimated cost (for the monument's materials and construction costs) is $800,000," Healey said.
"I don't see us having a problem (raising that amount of money) given the fact we've already raised almost $50,000 just by having eight days of mall displays, we sold over 100 bricks, raised donations and in-kind services from a number of businesses across town."
"Our fundraising committee is putting together packages to reach out to a number of corporations in the Sault, we're working on grants from the federal and provincial governments, and the city has contributed the site and will help with its maintenance," Healey said.
"The date we're targeting (for the entire monument to be complete) is June 6, 2017, June 6 being D-Day and 2017 being Canada's 150th birthday."
The plan for the monument, designed by local landscape architect Ernst Kreps and Sault architect Chris Tossell, was first presented to city council by Healey as committee chair in August 2014.
Council has given the monument project its approval in principle.
Committee members include Ward 1 City Councillor Steve Butland and Community Services Commissioner Nick Apostle.
The Monument is intended to honour the estimated 10,000 men and women from the Sault and area who have served Canada in war or peacekeeping missions, from the War of 1812 down to the present day.
"There is a lot of education in that, keeping people informed of what has gone on over time," Healey said.
Image courtesy of Clyde Healey