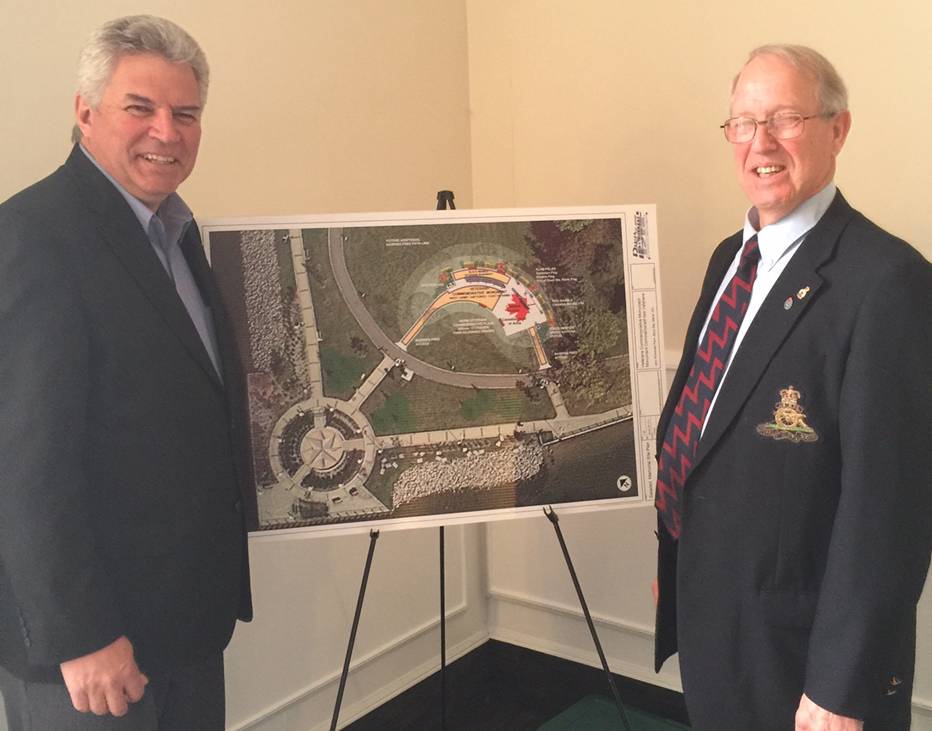 NEWS RELEASE
VETERANS COMMEMORATIVE MONUMENT
*************************
The Veterans Commemorative Monument community project took another step forward today at a campaign fundraising brunch at Grand Gardens North. It was announced that Canada's Coat of Arms has been approved by Heritage Canada for use on a planned Commemorative Monument Wall to be erected on the city's waterfront.
Planning Committee Chair Clyde Healey expressed appreciation for the efforts of Sault MP Bryan Hayes, who was in attendance at the event. Healey said, "MP Hayes promised he would investigate what he could do and to help with the approval process. It didn't take him very long to fulfill his commitment and he came through with his promise. He has proven his support to veterans."
The Coat of Arms, which had been on display at the Queen Street Post Office building, will be officially turned over to the community group at a future event.
Today's Brunch fundraiser is part of a current campaign accepting donations for construction of a commemorative site at Rowswell Park to honour all who have and are serving with the Canadian Armed Forces.
Bricks are available upon donation and will be engraved with the name and unit of the person being honoured.
Details are on the website thosewhoserved.ca and on Facebook Veterans
About the Veterans Commemorative Monument
The Veterans Commemorative Monument project is designed to recognize all men and women who have volunteered to serve with the Canadian Armed Forces.
The Veterans Commemorative Monument will provide a formal and lasting tribute to the citizens of Sault Ste. Marie and the surrounding area on the waterfront of Sault Ste. Marie, in John Rowswell Park, adjacent to Clergue Park.
For more information, thosewhoserved.ca which includes drawings of the proposed monument, background and donation information.
*************************