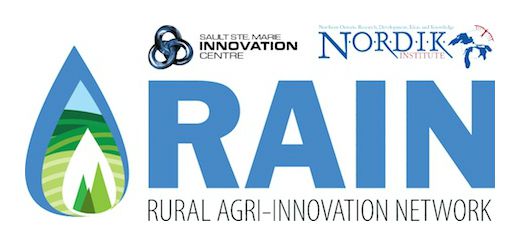 NEWS RELEASE
RURAL AGRI-INNOVATION NETWORK

*************************
The Rural Agri-Innovation Network (RAIN) will be one of the food system leaders participating in Sustain Ontario's 4th Bring Food Home conference in Sudbury November 20-22, 2015.
This year's event themed 'Digging Deeper' will bring together healthy food and farming advocates, innovators and decision makers to share successes, gain skills, and collaborate on the future of Ontario's food movement.

Bring Food Home: Digging Deeper features over 40 sessions organized into 6 streams: Food Access and Justice, Agriculture and Environment, Local Food Economies, Edible Education, Health Promotion and Building Our Capacity; many of the programs feature issues specific to Sault Ste. Marie.
RAIN's David Thompson will present at a session on the topic of 'Go North: a look at the expanding role of Northern Ontario in Ontario's agricultural production'.

In the face of obesity and diabetes epidemics and a farm income crisis, Ontario has developed a vibrant food sector and a dynamic food movement.
Hundreds of initiatives across the province including Sustain Ontario's biennial conference are connecting people to the sources of their food, helping them to grow, and eat in a way that contributes to healthier and more resilient communities.

Conference early bird registration ends October 9.
Full conference passes, single day passes, special member discounts, and tickets to the Feast of Local Flavours are available.
Mark Schatzker, award-winning writer and author of The Dorito Effect (2015) and Steak (2011) will deliver Friday evening's key note address after a day of special programming including new farmer training and tours across the Greater Sudbury region and Manitoulin Island.

To learn more about the Bring Food Home conference and to register, visit www.bringfoodhome.com.
For more information on RAIN, contact David Thompson at 705.942.7927 ext. 3027, dthompson@ssmic.com or visit: www.rainalgoma.ca.
*************************