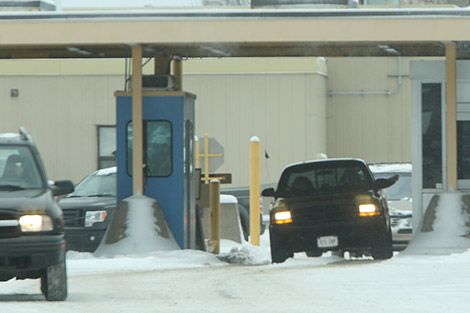 NEWS RELEASE
U.S. CUSTOMS AND BORDER PROTECTION
*************************
SAULT STE MARIE, MI - U.S. Customs and Border Protection (CBP) Field Operations announced improvements made to the Sault Ste. Marie's Port of Entry to help reduce wait times during peak traffic periods.

A new primary inspection booth has been installed in a lane initially intended for commercial buses.
This fully functional lane will increase capacity of inbound vehicular traffic and help decrease wait times on the International Bridge.

"We are constantly working with our partners at MDOT to improve our operations at the port of entry. The addition of a fully functional traffic lane will help facilitate legitimate travel and trade at the border," stated Port Director Patrick Wilson.

CBP
U.S. Customs and Border Protection is the unified border agency within the Department of Homeland Security charged with the management, control and protection of our nation's borders at and between official ports of entry.
CBP is charged with keeping terrorists and terrorist weapons out of the country while enforcing hundreds of U.S. laws.
*************************