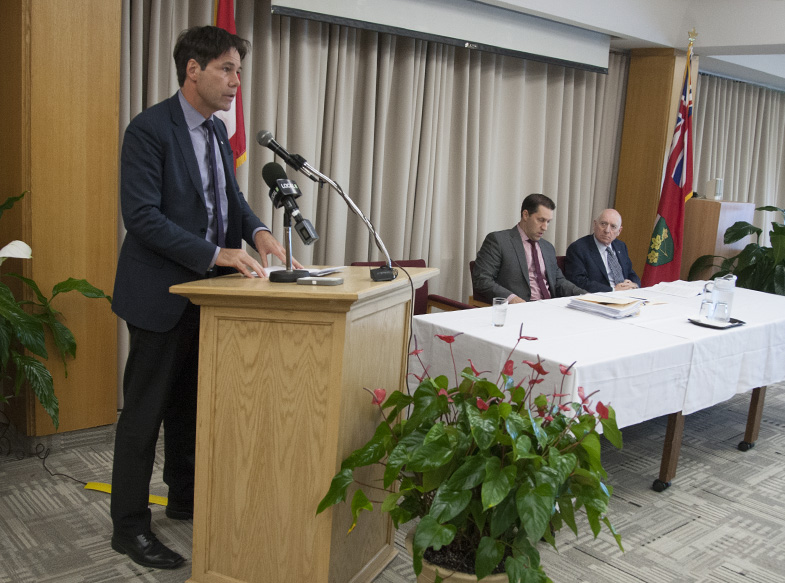 READ A COPY OF THE REPORT HERE
WATCH THE REPLAY OF TODAY'S PRESS CONFERENCE
Keep refreshing your screen as this story is updated
Health Minister Eric Hoskins announced the ministry has taken "speedy action" following a probe into Algoma Public Health's board.
He said he asked this morning for the resignation of board members who were appointed prior to last fall's municipal election.
The call for the board's resignation came as a result of a provincial assessment that Hoskins said found APH's board "failed to meet its obligations."
"It's time to make a fresh start and move forward together," said Hoskins.
Hoskins said the report recommended future boards be "skills based," and that municipalities look at "the advantages" of appointing public health board members other than those who are sitting councillors.
MPP David Orazietti told LOCAL2 the report raised the possibility of "dismantling" APH and merging it with the Sudbury board.
"That to me is punishing the community for the actions of the few," said Orazietti.
He said he and Hoskins favour a restructuring of the board.
In a release issued this afternoon, Penny Sutcliffe, Algoma Public Health's acting medical officer of health, said the following:
"This announcement is evidence that the provincial government takes very seriously the importance of effective public health leadership in this province," said Sutcliffe. "I want to acknowledge the excellent work of Algoma Public Health staff in responding to and supporting public health in our communities over this last while," she added.
The background:
Six months ago Algoma Public Health fell under a dark cloud when it became public that its leaders had entrusted the organization's finances to a man convicted of multiple counts of fraud totalling $2 million.
Among the ensuing fallout was the resignation of the district's medical officer of health, the withdrawal of a proposed project for the Gateway site, the fizzling of plans for a medical marijuana production facility involving APH, and a provincial probe into APH's finances and board activities.
Could the Ministry of Health be about to tell us how on earth it all started?
You can find out when we do by watching LOCAL2's livestream at 2 p.m. when Health Minister Eric Hoskins and MPP David Orazietti have scheduled a press conference at the Civic Centre to release the findings of a provincial assessment of APH's board.
After the announcement, stay tuned for full coverage from SooToday and LOCAL2 journalists.
WATCH THE REPLAY OF TODAY'S PRESS CONFERENCE
The livestream will also be archived and available following the press conference.
For more on this story check out our earlier coverage:
How on earth did this man end up overseeing Algoma Public Health's cash?
City raises red flags over Gateway developers
Rothberg not part of proposed medical grow op, says proponent
Sofer's grow-op application withdrawn. Are there others?
(PHOTO: Health Minister Eric Hoskins speaks about the probe into Algoma Public Health's board Tuesday at the Civic Centre. Kenneth Armstrong/SooToday)