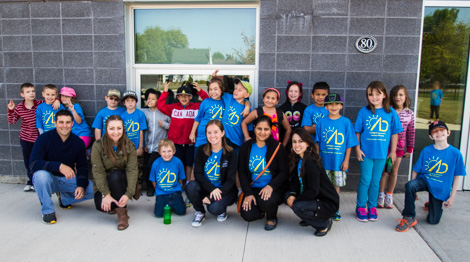 This group of smiling faces are part of a new summer program initiated this year by the Algoma District School Board (ADSB).

The Summer Learning Program (SLP) began on Tuesday, August 5 and will continue Monday through Friday from 9 a.m. to 2 p.m. until August 22.

SLP provides enrolled primary students with specialized literacy and numeracy instruction and also lessens the students' summer learning loss.

So why is this group of tots we found Big smiles for these summer primary students at F.H. Clergue so darn happy about being in summer school?

Because today was field trip day, and they were just about to get on the bus that would transport them to some buggy adventures at Entomica.

Other class field trips include a visit to Garden River to see local NHLer Jordan Nolan and the Stanley Cup, swimming, fire hall visits, and the like.

"The students get full group, small group and individual instruction," Lorrie Morley, SLP co-administrator, told SooToday.com. "After lunch, our support workers plan the recreation program. It's based on cooperative gains, art activities, field trips and it's a way to get the kids involved so it's a good balance."

A total of 80 students are registered in this inaugural SLP at three locations - F.H. Clergue Public School, H.M Robbins Public School, and Parkland Public School.

This first SLP was coordinated by the Council of Ontario Directors of Education and funded by the Literacy and Numeracy Secretariat.

The program is provided to parents of the selected students at no cost.