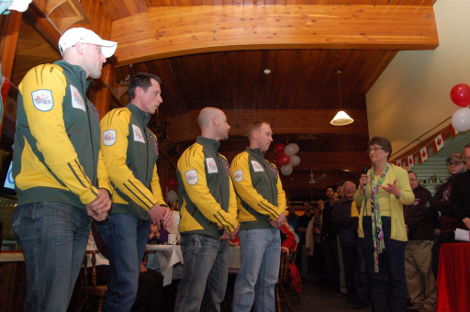 NEWS RELEASES
CITY OF SAULT STE. MARIE
BRYAN HAYES. MP
*************************
Public invited to attend community celebration on April 9 for Brad Jacobs curling team
SAULT STE. MARIE. ON - The general public is invited to join Mayor Debbie Amaroso and members of city council to celebrate the achievements of the Brad Jacobs Curling Team at a community reception to be held at 7 p.m. on Tuesday, April 9, 2013 ,at the Essar Centre.
Team members include skip Brad Jacobs, third Ryan Fry, second E.J. Harnden, lead Ryan Harnden, fifth player Matt Dumontelle and coach Tom Coulterman.
The community celebration will include Mayor Amaroso's presentation of the Key to the City to Team Jacobs, video highlights and an autograph session.
Admission to the April 9 event is by donation to the development of curling in Sault Ste. Marie.
Doors open at 6 p.m. and all ages are welcome.
Congratulations to the Jacobs rink on their silver medal as they represented Canada at the 2013 Ford World Men's Curling Championship in Victoria, British Columbia.
*************************
SAULT STE. MARIE, ON -- Bryan Hayes, MP for Sault Ste. Marie, is elated to recognize local Brier champs, Team Jacobs, the pride of Northern Ontario, for their Silver Medal Victory at the Ford Men`s World Curling Championship in Victoria BC yesterday.

"As the federal representative of Sault Ste. Marie, I beamed with pride as Team Jacobs conducted themselves with poise, grace and sportsmanship at the gold medal game in Victoria, BC. What an honour it has been to be by their side. Team Jacobs has made Sault Ste. Marie, Northern Ontario, and all of Canada very proud," said MP Hayes.

MP Hayes looks forward to the public celebration planned for Tuesday night at the Essar Centre where Team Jacobs, consisting of skip Brad Jacobs, third Ryan Fry, second E.J. Harnden and lead Ryan Harnden along with alternate Matt Dumontelle, will be welcomed home and recognized by Mayor Debbie Amaroso.
*************************
---