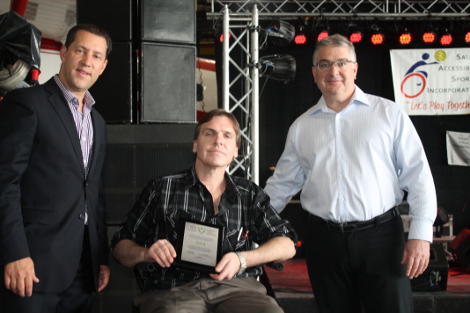 Local people with disabilities who want to get involved in sports have received some extra encouragement to do so.
David Orazietti, Sault Ste. Marie MPP, announced a $51,400 Ontario Trillium Fund grant for Sault Accessible Sports Incorporation (SASI) at a fundraiser Wednesday.
The Trillium Grant money has enabled SASI to purchase 20 sledges for sledge hockey, 12 basketball wheelchairs and a trailer to transport its sports equipment.
"This money means a lot to our participants in our sports," said Don Calvert, SASI chair (pictured with Orazietti and SASI volunteer Sergio Saccucci).
"Our goal is to put the word out there to the city of Sault Ste. Marie so that anybody with a disability has the option of coming and trying out one of our sports…if they want to come and join us they're more than welcome to," Calvert said.
"We want people to know we provide the equipment and things like ice time…it's free for them," Calvert said.
SASI has fundraising efforts of its own, but Calvert said "without grants like Trillium we wouldn't be able to afford to pay for equipment…with the new trailer we'll be able to transport our equipment better, maybe even go out of town and play sledge hockey against a team from another city."
"We'll also have a complement of our own basketball wheelchairs for years to come," Calvert said.
SASI is currently involved in eight sports, including sledge hockey, basketball, archery, karate, bocce, Para-Nordic skiing, biathlon and bowling.
Sledge hockey is played at the John Rhodes Centre, basketball at Algoma University's George Leach Centre, bocce at Sault College, bowling at Northcrest bowling lanes and archery at the Rod and Gun Club.
Sledge hockey and basketball are especially popular, Calvert said.
"Sports is not just about the health aspect…a lot of our participants have formed close friendships, they get a sense of belonging from being part of a team, it builds self-esteem, self-confidence and self-discipline," Calvert said.
"We encourage people to come out and try a sport…a lot of people will call me on the phone, come out to try a sport, and next thing you know they're out there every week, because it's so much fun."
SASI is based at the Accessibility Centre, located at the John Rhodes Community Centre.
Transportation for participants who cannot drive to and from SASI sporting events can be found usually through family and friends, or, if within city limits, through public transit or the Parabus.
SASI began at the grassroots level several years ago but picked up momentum in 2009, officially becoming a not-for-profit in 2012.
Wednesday marked the second annual SASI "A Night to Remember" fundraiser at the Canadian Bushplane Heritage Centre.
The event included a pasta dinner, live and silent auctions and live entertainment from Stiffler's Mom.
Last year's inaugural fundraiser raised $17,000 for SASI, Calvert said.
SASI contact information can be found on the group's website