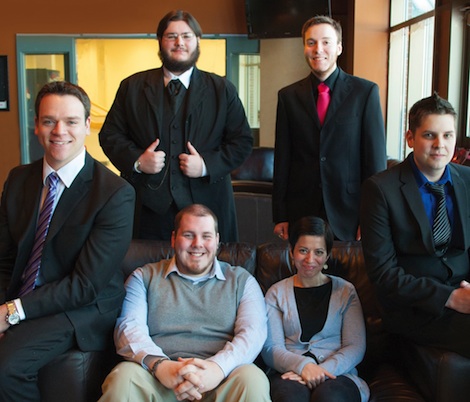 NEWS RELEASE
ALGOMA UNIVERSITY
*************************
Algoma University students take on the world
SAULT STE. MARIE, ON (February 19, 2013) - Six students from Algoma University will be travelling to Toronto on Wednesday to take part in the 28th annual North American Model United Nations (NAMUN).
This year's NAMUN will take place at the University of Toronto from February 21-24.

"This is a great opportunity for us," said lead delegate from the Algoma University team, Kyle Corbett. "We're all really excited to be representing the university, and to be able to take part in such a great learning experience."

The NAMUN has hosted over 50 universities from more than 20 countries, as its popularity and prestige attracts the 'best and brightest' from around North America and beyond.
The purpose of the three-day simulation is to give students a glimpse into the "real-world" of diplomacy and strategic decision-making, and a better understanding of the structure and function of the United Nations system.

"We are very happy that the Algoma University Political Science Society will be sending, for the first time, a delegation to NAMUN," said Political Science professor Dr. Nadia Verrelli. "Events like this are great learning experiences, and are also 'ready-made' for social networking. Participants leave with lasting memories and frequently lasting friendships. Most critically, events like NAMUN put into practice the knowledge, ideas and concepts they have acquired in their political science and International Relations classes."

Verrelli, along with fellow faculty advisor Dr. Neil Cruickshank, imagine NAMUN will start students down the path of life-long and experiential learning.
"Events like NAMUN are exciting for students and invite them to 'think outside the box' in an atmosphere that invites quick thinking, problem solving and relationship building," added Cruickshank.

Students will be placed in several different scenarios at the event, which will require them to role play and work together with other delegates to solve real past problems, such as the 1947 UN General Assembly Special Committee on the Problem of Korean Independence, and future hypothetical issues, like the 2035 UN Special Session on Global Overpopulation.

The Political Science Society at Algoma University wanted to express a heartfelt thank you the president, the Office of the Academic Dean and the Department of Law and Politics for their financial support to make this trip a reality.
Also, the team wanted to thank Dr. Verrelli and Dr. Cruickshank for their time and support to help them prepare for the event.

"Participating in these sessions will provide us with some political context upon which to continue our studies," said Corbett. "This experience is invaluable."

Those interested in NAMUN 2013 can visit the website or follow on Twitter.

About Algoma University
Algoma University offers a wide variety of liberal arts and sciences degree options including programs in psychology, computer science, business administration, fine arts, community economic & social development, and biology in Sault Ste. Marie, Brampton, Timmins and St. Thomas.
As a partner with Shingwauk Kinoomaage Gamig, Algoma U is committed to respecting Anishinaabe knowledge and culture.
Algoma University has launched its Essential Elements Campaign to expand its campus and offer more scholarships and awards to students.
To learn more, visit here.
PHOTO CAPTION: back row from left: Ian Rowlinson, Justin McConnell; front row: Spencer Kenney, Joshua Reid, Marina Salvatore, Kyle Corbett
*************************