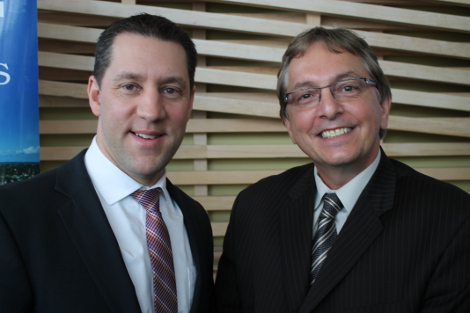 Sault Ste. Marie MPP David Orazietti and Ontario Lottery and Gaming (OLG) Acting President Tom Marinelli (pictured) were among several political leaders and other VIPs, involved in the gaming and information technology sectors, gathered for an announcement made at the Sault Ste. Marie Innovation Centre (SSMIC) Friday.
Orazietti announced the formation of a Digital Gaming Task Force involving various stakeholders, dedicated not only to preserving and improving a healthy lottery and gaming sector (and jobs associated with it) in Sault Ste. Marie, but also to use the considerable amount of existing, innovative expertise in Sault Ste. Marie to position the community as a major player within the global digital lottery and gaming industry.
Officials enthusiastically pointed to the expertise already in place at the Sault OLG office and the Innovation Centre, and the significant increase in the number of jobs at the Sault offices of Pollard Banknote and Canadian Banknote Company as they pertain to the digital lottery and gaming sector.
Marinelli, a Sault native, said: "The gaming industry is growing at a substantial rate around the world with new opportunities for job creation, particularly in digital gaming…this community is well-positioned for future opportunities in this emerging industry."
Speaking to SooToday.com, Marinelli said: "The Chair, the Board of OLG and myself are committed to Sault Ste. Marie…my job is to bring opportunities to this community."
The Sault Ste. Marie OLG office currently employs approximately 580 people, with another 300 at Casino Sault Ste. Marie.