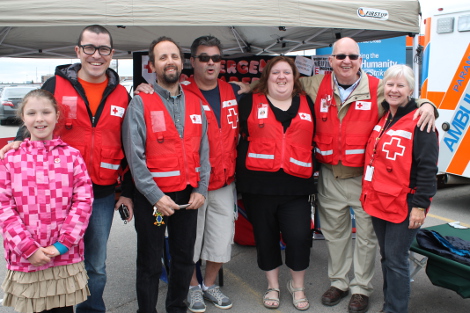 Walmart's parking lot near Great Northern Road marked the spot to wrap up Emergency Preparedness Week activities in Sault Ste. Marie Saturday.
Emergency Preparedness Week is a nationwide, annual initiative held during the first full week in May.
Saturday's local event included emergency services professionals from the Sault Ste. Marie Police Service, OPP, Sault Fire Services, EMS ambulance personnel, Sault Search and Rescue, Canadian Forces, the City of Sault Ste. Marie, Algoma Public Health, staff and volunteers from our local Canadian Red Cross branch and Winmar Property Restoration Specialists.
It was a great day for anyone who is into emergency vehicles (especially the Sault Ste. Marie Police Service BATT vehicle!) and to speak with the dedicated men and women in uniform who are there for us should an emergency arise.
The theme of Emergency Preparedness Week is to urge everyone to be prepared to cope with an emergency in the first 72 hours after a major snowstorm or other weather event, electrical blackout or massive chemical spill shuts down the community.
Being prepared includes making a plan and preparing a survival kit for those 72 hours, while the community gets back on its feet.
The City of Sault Ste. Marie's Community Emergency Management Coordinator Lauren Perry told SooToday.com "we want everyone to have at least 72 hours of supplies they need on hand in case of a large scale emergency."
Saturday's event marked the second year the City has held its Emergency Preparedness Week showcase event in partnership with the Red Cross.
"A major blizzard, a hazardous materials spill, a forest fire or a health pandemic could shut down City services that could strand you in your home, and you need to take steps to make it less stressful for you," Perry said.
"That gives first responders time to get to those people who need the most help first."
"You may be asked to leave your home in a hurry and if you have your emergency kit with you near the front door, you grab it on your way out and leave straight away with items like food and a change of clothes."
The City of Sault Ste. Marie website, emergencymanagementontario.ca and getprepared.gc.ca offer excellent tips on how to plan for an emergency, and which items (from flashlights to playing cards) you should include along with food, water and extra clothing in your kit.
Perry recalled the 2003 blackout and a five-hour power outage two years ago.
"Five hours is not a long time, but you're getting on to that cusp where people can get a little worried and panicked. We don't know when an emergency period will end, and you want to make sure you have supplies in case stores have to close, have cash on hand…there are a lot of different steps you can take."
"Emergencies can happen anywhere and we're not immune in Sault Ste. Marie. I think we're seeing a trend where they're happening more often and may continue to occur. Being prepared for any eventuality will make a difference," Perry said.
Perry told us "should a major emergency develop in which people would need shelter for an extended period of time, the City would start with its own facilities to shelter people, such as the Essar Centre and the John Rhodes Community Centre."
"We've also been in discussions with Algoma University to see if we could use the George Leach Centre or some of their student housing, or some of the newer schools like Superior Heights where we could put in cots and food services, so plans are in place."
"I believe we as a community are working hard to make sure we're well-prepared, but our biggest push is to make sure our community members are well-prepared to help themselves in those first 72 hours."
"A lot of people know they need to be prepared, but they haven't taken any steps to do that, and that's what this week has been about. We're encouraging people to talk to your family about an emergency plan and prepare your kits."
Other local services and events held during Emergency Preparedness Week included an information table for the public at Station Mall, operated by the City, Red Cross and the Vulnerable Persons Registry (VPR), and information provided at a LOLDOGS fundraiser at Rome's in regards to caring for pets in an emergency situation.
As for first responders and their gear on display at Saturday's event, one of the biggest attractions was the Sault Ste. Marie Police Service Ballistic Armoured Tactical Transport (BATT) vehicle.
The BATT vehicle became part of the Police Service fleet in 2011, built by HEAT Armor of Chicago, with some of its armour plating manufactured by Essar Steel Algoma.
The vehicle can fit 10 police officers and may be used in major drug seizure operations or to neutralize the threat posed by an armed, barricaded person.
Police also performed a simulated arrest with the help of Justice, a two-year-old German Shepherd police dog.
Sault Fire Services displayed a special suit a fire fighter would wear in dealing with a chemical spill situation.
Sault Search and Rescue demonstrated the effectiveness of the Project Lifesaver transmitter and receiver, designed to locate people who have gone missing due to complications related to dementia.
A good and informative time was had by all (before rain and flurries came along in the late afternoon!).