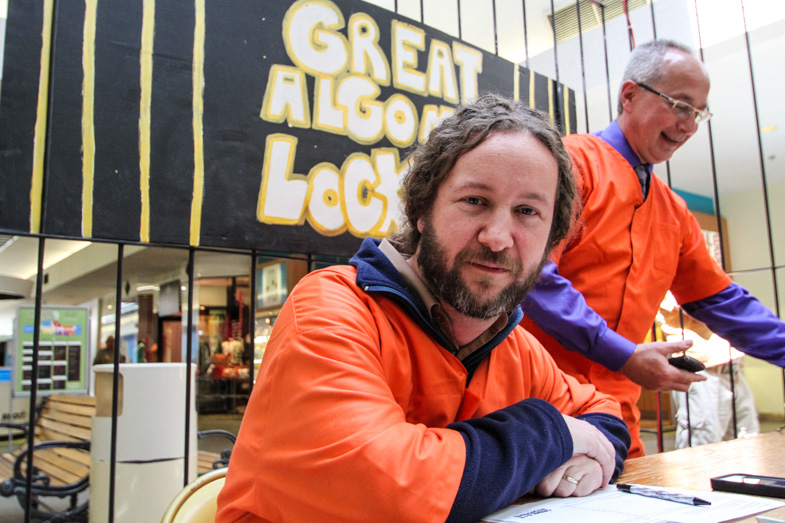 It's back.

After a few years hiatus, Sault Ste. Marie and District Crime Stoppers resurrected its infamous Great Algoma Lock Up fundraising event today at the Station Mall.

With help from Sue Barber and her White Pines OnStage students who acted as judge and council, approximately a dozen area residents found themselves apprehended by Police and facing a variety of interesting charges.

Some of the more colourful charges applied today included failing to comply to office policy requiring you to have a full set of teeth, failure to do the Happy Dance, being an overachiever, being certifiably insane, and making a coworker swallow a worm.

SooToday.com found Sault Area Hospital HR Manager Chris Johns (pictured) rotting in the Great Algoma Lock Up cell after he was found guilty of excessive furriness and abuse of bacon.

Although he's not certain, Johns suspects it was his Sault Area Hospital team that had him thrown in the big house.

"Police officers put the cuffs and orange jumpsuit on me and walked me out of the Hospital past all the patients and visitors with my head hung low," Johns said, laughing.

It took just over one hour for Johns to raise the funds required to spring him from the makeshift hoosegow, and even though he was caught off guard he said he was more than happy to do his part to help the cause.

"[Next year] I'm going to have my entire team locked up," he threatened, half joking. "I'll have them all removed from the building at once. It'll be payback time for sure."

Also locked up today as we hung outside the jail cell was Highland Ford owner Darren Smyl, facing the charge of lusting after Corvettes (a Chevy product) among others.

Smyl happily plead guilty to all charges and paid his dues.

The Great Algoma Lock Up originally began in Sault Ste. Marie in the late 80s and was a wildly popular three-Day event, Crime Stoppers President Len Bailey told us.

"We had a lot of requests from the public to resurrect it, so we thought we'd try it for one day," he said. "We're more than pleased with the response. We didn't anticipate this kind of response at all."

"We'll definitely do it again and make it bigger and better."

All proceeds from the Great Algoma Lock Up go to support Sault Ste. Marie and District Crime Stoppers events, programming and initiatives.
To see the video on LOCAL2 click here.