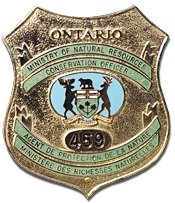 NEWS RELEASE
MINISTRY OF NATURAL RESOURCES
*************************
Aerial Surveys Show Declines in Northern Ontario
To ensure moose populations remain healthy and resilient, Ontario is reducing adult moose tags across the province by about 18 percent for 2014.
The reductions are in response to declining moose populations in northern Ontario, which were noted by provincial biologists during this winter's annual aerial surveys.
The largest tag reductions will occur in areas with the largest declines.
Ontario's moose population has remained relatively stable over the past decade; however, most areas of northeastern Ontario and the more accessible parts of northwestern Ontario have recently been showing signs of decline.
Many factors can contribute to population shifts, such as harvest, predation, parasites, habitat condition and low calf numbers.
Ontario has been working with key stakeholders and the hunting community to respond to these changes and plans to seek public input this summer on next steps.
"Ontario and its partners have agreed that we must act now to secure the future of moose in this province. Moose are not only important to Ontario's economy, particularly in northern communities, but they are also vital to our province's biodiversity," says David Orazietti, minister of Natural Resources.
Ontario continues to set long-term population targets and look at how and when moose can be hunted in this province through its Moose Project.
For more information about the moose tags available in your area, see the 2014 Hunting Summary Regulations at ontario.ca/hunting.
Ontario's moose draw opens on April 22, 2014.
Read more about moose management in Ontario at ontario.ca/moose or Moose Survey Results by Region.
*************************