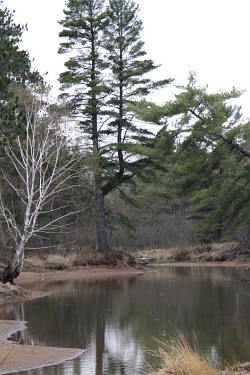 The controversy over the Pointe Estates development goes on.
Tuesday evening marked another tense Sault Ste. Marie Region Conservation Authority (SSMRCA) Board meeting, with disputes between Board members over the minutes of January's Board meeting, and a disagreement between two Board members and an observing member of the public who was in attendance.
Board Chair, Ward Three City Councillor Brian Watkins, attempted to adjourn Tuesday's meeting over the use of a hand-held recording device used by an observing member of the public.
The meeting at the Conservation Authority's Fifth Line East office began with SSMRCA Board member Ken Lamming objecting to information contained within the minutes of the January 22 Board meeting.
Watkins, speaking to SooToday.com after Tuesday's meeting, confirmed the written information in the minutes from the January 22 meeting Lamming protested to concerned the Pointe Estates development project.
The January meeting was filled with spirited debate, with a call from Board member Frank Manzo (Ward Six City Councillor) for the Board to rescind a December 13, 2012 decision by Board members, in a 3-2 recorded vote, to allow the Pointe Estates project to move forward for City Council's consideration.
The 91-lot Pointe Estates subdivision project, put forward by Jeff Avery, of Avery Construction, has caused Conservation Authority staff considerable concern in regards to the effect it may have on the quantity and quality of wetlands in the development area and surrounding residential areas.
Pointe Estates would involve a parcel of land bordered by Pointe Aux Pins Drive, Dalgleish Road, the St. Mary's River, Alagash Drive and Pointe Louise Drive.
It would cover more than 200 acres of land and consume about 100 acres of wetland.
A lengthy report compiled by Sault Ste. Marie, Michigan-based hydro geologist Frank Breen in December 2011 expressed environmental concerns about the Pointe Estates subdivision project.
Another study submitted on Avery's behalf in 2012, opponents of the subdivision say, did not contain sufficient study of the impact the subdivision would have on area wetlands.
At January's SSMRCA meeting, then-Board Chair Lamming told Manzo no reconsideration of the Board's December 3-2 recorded vote decision in favour of the subdivison project could take place before a 12-month period had passed.
Lamming objected to Manzo's challenge to the 12-month claim within the minutes of the January 22 Board meeting, claiming they were based on Manzo's opinion, not facts.
Manzo has insisted Lamming's claim that a 12-month period must pass before any reconsideration of the Board's decision can be made is not contained in the rules governing the SSMRCA Board.
Concerned citizen Bryan Dumanski has attended recent SSMRCA Board meetings, which are open to the public.
At January's meeting, and at Tuesday evening's meeting, he recorded SSMRCA Board meeting discussions regarding Pointe Estates with a hand-held device.
At Tuesday's meeting, after the initial dispute over the January meeting's minutes, Lamming told Dumanski he would need permission from the Board to record matters discussed at SSMRCA Board meetings.
Manzo protested, stating Board meetings are public and should be allowed to be recorded by members of the public.
Watkins and Lamming then voted to adjourn the meeting when Dumanski refused to turn off his device, their votes countered by Manzo and Board member Marchy Bruni, City Councillor for Ward Five.
Watkins then called for another vote to decide if Dumanski could continue his recording. Watkins and Lamming voted against, while Manzo and Bruni voted in favour of the presence of the tape recorder.
Dumanski turned off his recorder and eventually left the meeting.
Watkins then told the Board he would investigate if public recordings of SSMRCA Board meetings can be allowed before the next Board meeting on March 19.
Also in attendance was concerned citizen Rick Gartshore, one of a group of citizens who has objected to the Pointe Estates development.
Gartshore left the meeting without making comment.
It is not clear at this point if Gartshore and others will initiate legal action against the development.
December's SSMRCA Board meeting resulted in a 3-2 recorded vote by the Board in favour of moving the development forward for City Council to consider, despite considerable opposition by residents who live near the proposed Pointe Estates subdivision and environmental experts.
Watkins told us after Tuesday's meeting "Pointe Estates is beyond our authority right now…it's been approved and gone to Council. It's out of our hands now. It's behind us and I've got no comment on Pointe Estates."
As for the question of public tape recording of SSMRCA Board meetings, Watkins said "if someone (a member of the public) would be courteous to ask us to tape it, that might be a different discussion…until I know otherwise I'm not in favour of having that as an official record as to what's going on."