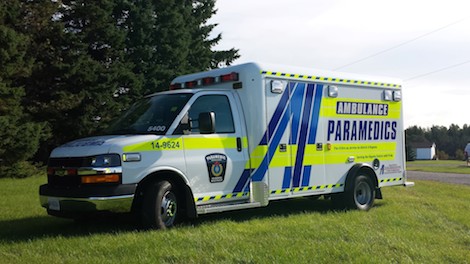 NEWS RELEASE
ALGOMA DISTRICT PARAMEDIC SERVICES
***************************
THESSALON – The Algoma District's ambulance service has undergone a re-identification process involving not only a name change but also a revamping of the way that new local ambulances will look.
Operated by the Algoma District Services Administration Board, the service formally known as Algoma Emergency Medical Services will now be called Algoma District Paramedic Services.
"Changing our name to include 'Paramedic Services' is indicative of the changing role that Paramedics are playing in the community", said Deputy Chief Paul Guertin.
"In addition to their traditional role of responding to emergency calls, Paramedics will soon be taking on additional roles in the community including functioning as a further extension of the health care system with initiatives such as community paramedicine, community education and health promotion. We felt the timing was right to make this change."
The name change also provided the perfect opportunity for the service to initiate a change in the appearance of its vehicles.
"We wanted to enhance the vehicle's conspicuity in order to improve workplace safety for our Paramedics who are constantly working both in and around the ambulance vehicle. We did this by choosing a new colour scheme and design based on scientific evidence that will make the vehicle more noticeable and easy to see during both the day-time and night-time."
Chief Henry Alamenciak explained that the change in appearance will be done in a fiscally responsible way.
"As new ambulances enter the fleet, they will have the new design applied. All of our existing vehicles will only incur a minor change by having the new service crest added to them. This way the costs associated with the change are minimized", said Alamenciak.
Pictured above is one of two new ambulances commissioned for Algoma District Paramedic Services.
***************************