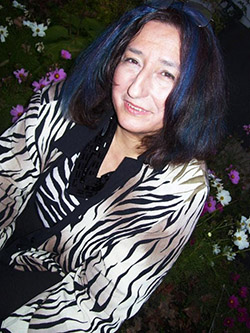 NEWS RELEASE
ALGOMA UNIVERSITY
*************************
SAULT STE. MARIE - Bernadette Pizzey (pictured), a fourth-year Social Work student at Algoma University, will be making the trek to Cairns, Australia to present at the 2014 National Indigenous Women Conference from the 13-15 of October, 2014.
Pizzey, a mature student of Algoma University, is from Forestburg, Alberta and is of Métis heritage.
She recently published her first book, Travelling Truths: Highway Memoirs (2013), and is now working on her second book, Travelling Truths: Bus People.
Pizzey will be graduating from the University this June.
Pizzey will be presenting her findings titled "Molly's Story" at the conference.
"Molly's Story" is part one of a three or four part series which tells the progress of a family on their journey to becoming healthy contributors within the Aboriginal and Indigenous community.
"Molly is a young Indigenous woman taken out of my book Travelling Truths: Highway Memoirs. I converted the story from my book into a case study and now I am putting it together as a presentation in regards to Molly becoming a healthy Indigenous woman (as a woman, mom, wife, daughter) by coming to understanding herself through the grandfather teachings and the medicine wheel," said Pizzey.
Upon submission of her abstract to the conference, Pizzey's "Molly's Story" was met with overwhelming support, receiving a 98 percent vote of acceptance from the conference's board.
"I am very pleased that Bernadette has submitted an abstract to present at the 2014 Indigenous Women Conference in Australia this summer. She is an inspiration to other students who desire to share their academic knowledge with other scholars at the regional, national, and international levels. She has embarked on a real educational experience for herself," said Dr. Rose Cameron of the Department of Community Development and Social Work.
The National Indigenous Women Conference provides a platform for Indigenous women to celebrate their achievements in life, and is devoted to the sharing of information and the empowering of women.
The conference highlights the existing Indigenous women groups and programs in Australia, and also provides a unique opportunity for delegates and speakers to network and exchange information regarding the successes and challenges that workers have faced in implementing Indigenous women services.
In order to afford the conference, Pizzey is undergoing extensive fundraising efforts.
The IFC, Algoma University's Department of Community Development and Social Work, and private donations are helping to finance the trip.
Pizzey will be hosting a book launch for Travelling Truths: Bus People to raise funds.
Algoma University's Social Work Club, and the Sault Indigenous Writers Collective, of which Pizzey is also a member of, will be fundraising on her behalf.
Pizzey has family who will be joining her in Australia after the conference, and is looking forward to exploring the continent.
For more information on Pizzey's conference, or to help finance her travels, please email bpizzey@algomau.ca.
About Algoma University
Algoma University offers a wide variety of liberal arts and sciences degree options including programs in Psychology, Social Work, Computer Science, Business Administration, Fine Arts, Community Economic & Social Development, and Biology in Sault Ste. Marie, Brampton, Timmins and St. Thomas. As a partner with Shingwauk Kinoomaage Gamig, Algoma U is committed to respecting Anishinaabe knowledge and culture. Algoma University has launched its Essential Elements Campaign to expand its campus and offer more scholarships and awards to students. To learn more, visit www.algomau.ca.
*************************