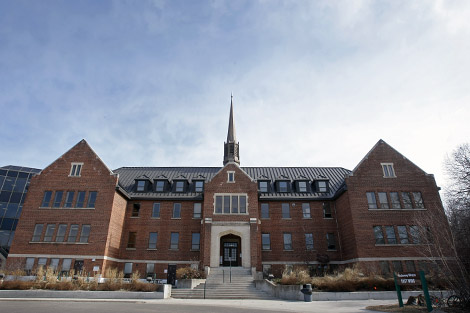 NEWS RELEASE
ALGOMA UNIVERSITY BOARD OF GOVERNORS
*************************
The Algoma University Board of Governors announces today that it will begin the process of selecting its next President.
In a recent letter to the Board of Governors, Algoma University's current President, Rick Myers, indicated that he is not interested in a renewal of his five year term which is ending in June 2015.
As a result of Rick's decision, the Board will immediately begin to seek out and select the institution's next leader.
The Board of Governors would like to extend its thanks to President Myers for his contributions to Algoma University since his arrival in 2010.
Under President Myers' leadership, enrolment has grown by almost 50%, the campus has been enhanced considerably, and the University has become substantially more international in character.
The President's "Small University, Big Education" campaign has helped to enhance and extend Algoma U's reputation for quality undergraduate education.
Board Chair Tim Lavoie said, "Algoma University has achieved some significant milestones under Rick's direction and there are more challenges that lay ahead. The next President will be asked to continue to grow and evolve the institution for the benefit of Sault Ste. Marie and Northern Ontario. In the meantime, the Board of Governors, President Myers and the University community will continue to work together to ensure a smooth transition."
*************************