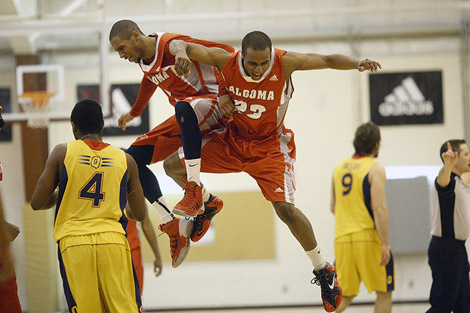 It was closer than they wanted it to be but the Algoma University men's basketball team picked up regular season win number four on Saturday evening.
The Algoma men picked up an 83-76 win over Queen's at the George Leach Centre in a game that they led by as many 14 points in the second half.
Queen's cut the Algoma lead to as small as two points in the fourth quarter but some timely shooting from the free throw line in the final minutes of the game helped Algoma to the win.
Reynaldo Carnakie led all scorers in the game for Algoma with 19 points in the win while Samy Mohamed added 18 points in the win while Terrell Campbell chipped in with 16 points.
Sukhpreet Singh led Queen's with 17 points in the loss while MacKenzie Simpson and Nikola Misljencevic had 15 points each in the loss.
The Algoma men improve to 4-11 with the win while Queen's drops to 7-7 in the loss.
Earlier on Saturday, the Algoma women dropped a 54-34 decision to Queen's.
Jenny Wright of Queen's led all scorers in the game with 16 points while Liz Boag chipped in with 15 points in the win.
Karissa Kajorinne and Sydney Resch had nine points each for Algoma in the loss.
On Friday night, both Algoma teams dropped their respective games in a double header with York.
The York men picked up an 84-77 win over Algoma thanks to Richard Headindu's 18 points.
Campbell and Brett Zufelt had 18 points each for Algoma in the loss.
On the women's side, York's Courtney Osborne had 16 points and 13 rebounds as the York women defeated Algoma 67-43. Anna Stilin had 10 points for Algoma in the loss.
Both teams travel to Toronto to take on the Varsity Blues on Jan. 24 before facing Ryerson on Jan. 25. Next home action for both teams is when they host Ryerson on Feb. 7. On Feb. 8, the men and women host their final home games of the season when they face Toronto before wrapping up the season with a pair of road games.
Photos by Kenneth Armstrong for SooToday.com