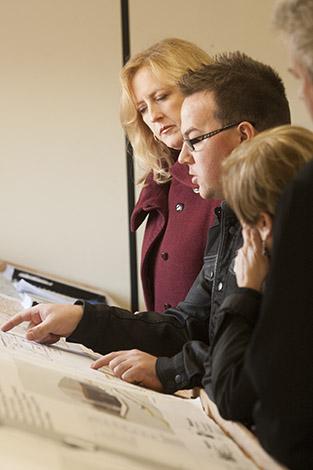 In addition to her CN Rail funding announcement made earlier Monday morning, Transportation Minister Lisa Raitt also made a funding announcement at the site of the new border plaza, currently under construction.

Prime Minister Stephen Harper made the original $44-million funding announcement in 2009, Raitt announced a further $7.5-miliion for the project.

Raitt said much of the reason for the extra funding is because of the time elapsed since the original announcement and the procurement of lands around the existing bridge plaza.

The expanded plaza was originally set to open by 2014 but was pushed back, in part, by homeowners who resisted selling properties that were required for the project.

Raitt said MP Bryan Hayes brought concerns to then Finance Minister Jim Flaherty that there wasn't enough money in the original announcement and that additional funding was approved shortly before Flaherty stepped down from office last March.

Flaherty died last Thursday and will be laid to rest in a state funeral to be held this coming Wednesday.

Raitt, accompanied by Hayes, looked over plan drawings and toured the construction site of the new border plaza, which is slated for completion in 2017.

"I had a great morning here, talking about resources, discussions about passenger rail," said Raitt, on her visit to Sault Ste. Marie.
(PHOTO: Transportation Minister Lisa Raitt views construction plans for the new border plaza, currently under construction. Raitt was in Sault Ste. Marie April 14, 2014 making multiple funding announcements. SooToday.com/Kenneth Armstrong)
Additional SooToday.com coverage of this story:
What's going on with that new bridge plaza anyway
*************************
NEWS RELEASE
TRANSPORT CANADA
*************************
SAULT STE. MARIE - The Honourable Lisa Raitt, Minister of Transport, today toured the Sault Ste. Marie International Bridge border crossing where she announced additional funding for the redevelopment of the Canadian plaza.
The Government of Canada is investing a further $7.5 million in funding for this project, in addition to the $44 million that Prime Minister Stephen Harper announced in 2009.
The project involves expanding and redesigning the existing Canadian Port of Entry located within the bridge's customs plaza and will include the construction of new Canada Border Services Agency commercial and travellers' examination facilities.
A new inspection lane for buses will also be incorporated as well as a duty free shop and a maintenance building.
This project is being funded through the Gateways and Border Crossings Fund.
The $2.1-billion Gateways and Border Crossings Fund works to improve the flow of goods and people between Canada and the rest of the world and is a key element of the Building Canada infrastructure plan.
*************************