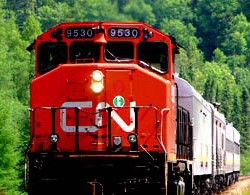 NEWS RELEASE
ACR PASSENGER SERVICE WORKING GROUP
*************************
A recent Algoma Central Railway passenger service survey garnered a strong response and considerable feedback.
With the Sault-to-Hearst run slated to be cancelled at the end of April, nearly 500 cottage and lodge owners, tourists, and other stakeholders responded by providing details about their use of the rail line and the impact on them if it is terminated.
The results are now being used by BDO Canada LLP, which is preparing an economic impact assessment of the passenger service.
"The feedback we got was considerable and we thank all the stakeholders for taking the time to fill out the survey," said Joe Fratesi, Chair of the ACR Passenger Service Working Group, which is working to secure a one-year extension of the rail run in order to explore viable options to keep the link operating well into the future.
"With 486 responses, the sample size is significant and is enabling BDO to prepare a solid economic assessment of the ACR passenger rail service."
The final report from BDO, set to be complete by mid-April, will measure the overall socio-economic impact of the transportation service.
The ACR Passenger Service Working Group will use the results to make a case to the Federal Government that financial support for this rail service is a worthwhile investment.
Members of the group have written to the Minister of Transport requesting a meeting with the Honourable Lisa Raitt to discuss the railway and the economic impacts of terminating this service.
They are awaiting a response.
The ACR Passenger Service Working Group represents a broad-range of concerned stakeholders, including municipalities, First Nations, small businesses, outdoor enthusiasts, tourism lodge operators and property owners who use the line.
All stakeholders will be invited to a meeting later this month to discuss updates and next steps.
The date and time of the meeting will depend on how the initiative progresses in the coming weeks and, once determined, will be posted online at www.algomapassengerrail.com.
*************************