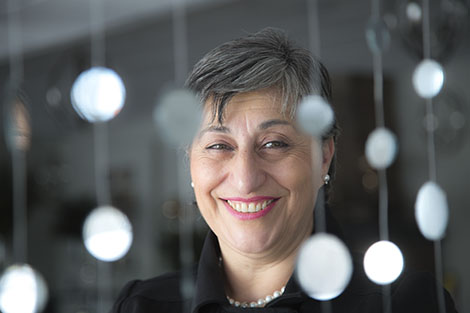 Look out the windows which surround the Iron Club restaurant on a sunny afternoon and you may not believe you are only a few minutes from downtown.
On this particular day a pair of eagles perch overhead in a large tree, the snow leading to the St. Mary's river is filled with animal tracks belonging to foxes, chipmunks and the like.
It's a dramatic change of scenery for Rosetta Sicoli who, for almost 30 years, had been the driving force behind A Thymely Manner in downtown Sault Ste. Marie.
The main view out their front door there was the Algoma District School Board building across Albert Street.
"You know how they say when God closes a door he opens a window? Well my new window has a view of the river" Rosetta says, smiling.
The change of scenery wasn't a decision she took lightly.
When asked about closing A Thymely Manner, known to many as simply "Thymely" Rosetta was quick to correct, "Retired, not closed".
That distinction means a lot to her, a way to close that chapter of her life while still writing the rest of her book.
That chapter began in 1984, when Rosetta and her mother Maria opened the restaurant on Albert Street.
Rosetta said, "A lot of people called it fine dining, but I think it was just good food."
It didn't take long for A Thymely Manner to be noticed, the Globe and Mail wrote a favourable review about 2 years after they opened.
Reviews in Flare Magazine, Where to Eat Canada and many more followed throughout the life of the restaurant.
Although the food critics, television personalities and celebrities who came through the doors were memorable, the biggest impact on Rosetta were her regular customers.
Some came weekly or monthly, while others would come once a year for an anniversary or birthday.
To Rosetta they all were special, "Do you know how many milestones are there?"
"I almost feel like a movie star, you know when you get the award and say you can't believe that I'm getting an award for doing something I enjoy doing, that's how it felt," she adds.
Rosetta and Maria added Chef Jen Healey to the Thymely family about 13 years ago, and when Rosetta's mother retired the two of them carried on.
The original plan was for Rosetta to retire the restaurant when her mother retired, but with Healey on board she was able to keep Thymely Manner viable.
Rosetta handed the reigns of Thymely over to Healey when the Iron Club opened last summer, but now Healey is moving on to other opportunities.
"The chain has been broken, it's time for us to retire," said Rosetta, referring to the closure of the restaurant.
But every end is a new beginning, and the closing of A Thymely Manner means that Rosetta can concentrate on the Iron Club.
It has also allowed her to move over some favourite menu items, like her risottos, to the Iron Club.
The building is nestled between Queen Street and the St. Mary's river and was built in 1919 and needed extensive renovations before opening.
"I gave them a list of the things that I wanted or had to have in order for me to put my name to it because I felt bad that such a beautiful, beautiful piece of property on the most gorgeous part of the river was never utilized," says Rosetta.
Something that one of her customers recently said to Rosetta put the move into perspective, "Thymely isn't a place, it's where you are and the standard you've created."
For another in-depth interview with Rosetta,please click here