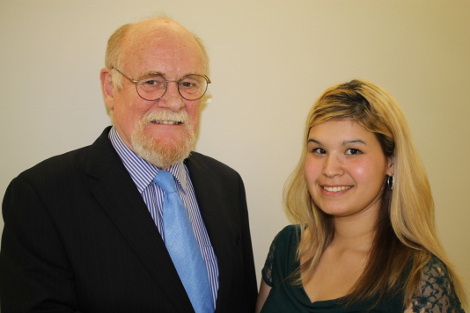 A special day for Sault College President Dr. Ron Common.
Not only did Thursday mark his birthday, but also there was a surprise announcement in his honour at Thursday's Sault College Board of Governors meeting from the Board's student member Amber Jones (shown here with Dr. Common Thursday).
In acknowledgement of Dr. Common's successful, ongoing efforts to provide new facilities for students, staff and instructors to enjoy, the planned link connecting the College's Essar Hall with the new, soon-to-open Health and Wellness Centre has been named "The Common Link"
"I'm so honoured," Dr. Common said.
"We like the name because it links together culture, hairstyling, athletics, and we wanted to do this in honour of Dr. Common," Jones told the Board.
Jones said "a couple of us from the Sault College Students Union (SCSU) went around the College polling students as to what name they would like best for the link. There was the Common Ground, the Common Link, the Common Good and the Common Path. We took a vote and they liked "The Common Link" the best."
Sault College Board of Governors Chair Dr. Gina Mohammad said "this is an appropriate gesture for Dr. Common for all the work he has done in planning and obtaining funding for facilities."
Thursday's meeting also marked the election of Carla Fabbro as new Chair of the Board of Governors, Kamal Ughadpaga as First Vice-Chair and Peter Berlingieri as Second Vice-Chair.
All three will officially begin a one-year term in those roles effective September 1, 2013, for the 2013-2014 academic year.