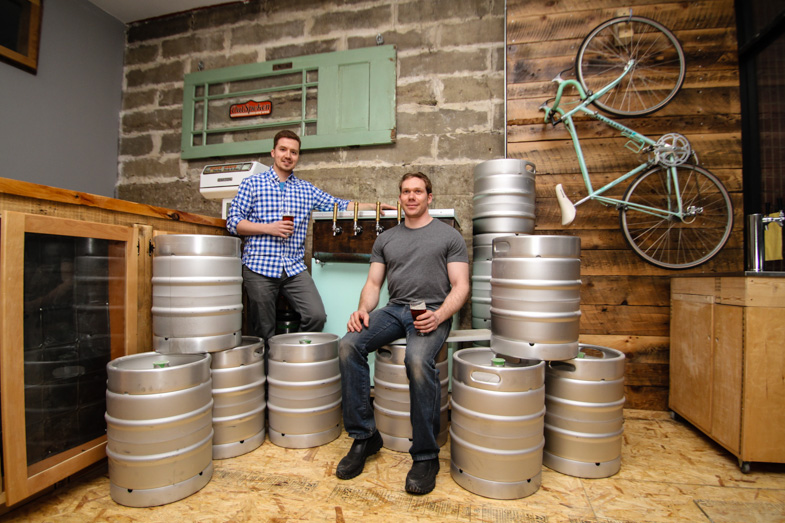 The long wait is finally over.

It was more than two years ago when SooToday.com first sat down with Vaughn Alexander and Graham Atkinson (pictured) to discuss their plans to supply locally crafted micro brew to the Sault public.

And now after a ton of hard work, years of planning, and miles of red tape, OutSpoken Brewing is set to make its debut during this weekend's Festival of Beer: The Trilogy.

"We could have done things differently with our opening, but we thought the exposure at the Festival of Beer would be perfect for us as we're just getting into the game. And it's exactly the market we need to reach," Atkinson told us.

Not wanting to show all their cards right off the hop, Alexander and Atkinson will be pouring OutSpoken's two signature brands during the Festival of Beer - OutSpoken Blonde Ale and Rabbit's Foot IPA.

While the Brewery's storefront isn't set to open to the public for a few weeks yet, any OutSpoken stock that remains following the Festival of Beer will be available at Loplops Gallery-Lounge located at 651 Queen Street East.

A number of other local watering holes have expressed an interest in stocking OutSpoken suds, including the Water Tower Pub, the Sault Ste. Marie Golf Club's Iron Club restaurant, and the New American Pub.

Limited quantities will be made available to these and other locations in the coming months until the boys get their large batch brewing system online and the storefront up and running.

Local beer aficionados can follow OutSpoken's progress on the Brewery's website, Facebook page, and Twitter.

But OutSpoken Brewing's offerings are just two of nearly 60 craft brews being featured during the 3rd annual Festival of Beer.

We recently had the opportunity to discuss the craft beer business with representatives from two Toronto area breweries - Bellwoods Brewery and Great Lakes Brewery.

Bellwoods' co-owner and co-brewmaster Luke Pestl told us that the recent boon in craft beer popularity can be attributed to a public desire to shop local and experience new flavours.

"Craft breweries started popping up in the 80s and 90s, but neither the breweries nor the consumers where prepared for esoteric beer styles. The brewers and the public had to develop their palates together, and then that just snowballed," he said.

"With the growth in the public's food experience, so grows the desire to increase their drink experience as well," Pestl explained. "It's a cultural shift towards more interesting and unique flavour experiences."

Great Lakes Brewery Sales and Community Manager Troy Burtch agrees.

"The craft beer boon can be equated to the slow food movement," he said. "People started shopping properly and supporting local businesses. It's the same thing with craft brewers. People like to support their neighbours. But you need to have a great product to back that up or people won't support it."

From Bellwoods Brewery, Festival of Beer participants will enjoy its Farmhouse Classic, a golden Belgian ale; Wizard Wolf, a medium body pale ale with notes of citrus, pine and tropical fruit; Roman Candle, a hoppy and bitter IPA; and Monogamy, a single hop pale ale.

Great Lakes Brewery will be pouring three selections at the Festival of Beer - Crazy Canuck Pale Ale which was originally crafted as an official beer for the Canadian Olympic Village during the 2010 Vancouver Winter Olympics; Devil's Pale Ale, a hoppy, hearty and bitter ale; and My Bitter Wife, a hop-head IPA tribute to temperance movement advocate Carrie Nation.

"We brew serious beer, but we don't take ourselves too seriously," said Burtch of Great Lakes' beer selection. "We're adventurous and we take risks, and people are rewarding us for those risks."

Not too serious indeed as evidenced by other limited brews offered from the 2013 Canadian Craft Brewery of the Year, including Apocalypse Later, Robohop, Harry Porter, and Miami Weiss.

Other participating craft breweries at this year's Festival of Beer include Black Oak Brewing Company, Trafalger Ales and Meads Brewery, Mill Street Brewery, Broadhead, Whitewater Brewing, and Lake of Bays Brewing Company.

Fans of Northern Ontario suds will be pleased to also find Stack Brewing taking part in the event.

The fairly new Sudbury-based brewery was recently awarded gold for its Biere de Garde, Les Porte de L'Enfer at the 11th annual Ontario Brewing Awards.

The Sault Ste. Marie Festival of Beer: The Trilogy kicks off this Friday night at the Canadian Bushplane Heritage Centre with 'The Twist Off' hosted in conjunction with Strive: Young Professionals Group from 4:30 to 8:30 p.m.

The Festival continues at the Canadian Bushplane Heritage Centre on Saturday, April 26 from 1 to 7 p.m.

Tickets are on sale now at Loplops, Dish Espresso Bar, Case's Music, and Tamarack Health Foods.