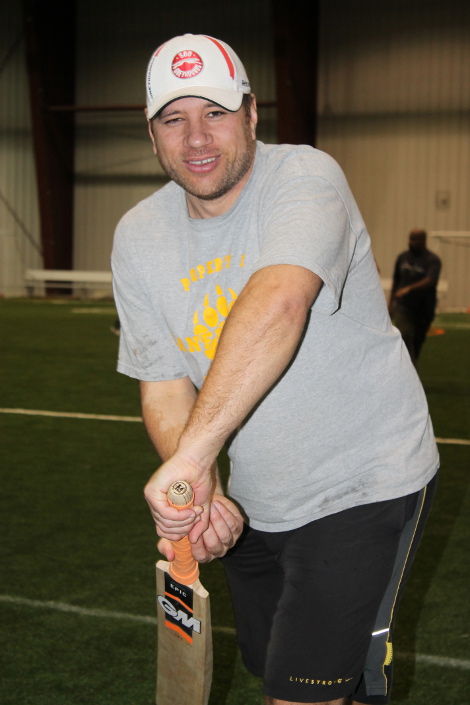 For the first time ever, cricket has become part of Bon Soo activities.
The "Bon Soo Welcomes Cricket" family event was held at the Northern Community Centre Saturday afternoon.
Local cricket enthusiast Duane Moleni (pictured), who is one of the prime movers and shakers behind Sault Ste. Marie's annual Passport to Unity celebrations as an employee of the Sault Community and Career Centre, coordinated the event with the help of the good people at Bon Soo.
Duane, who hails from New Zealand, moved to Sault Ste. Marie in 2006.
Cricket (which could be described as a far more 'gentlemanly' form of baseball without the spitting, bench-clearing brawls and other antics) is enormously popular in Duane's native New Zealand, along with Australia, India, Pakistan, Bangladesh, Sri Lanka, Kenya, South Africa, the West Indies and, of course, the United Kingdom, where the game was invented.
In recent years, Canada and the U.S. have caught on to the game.
For the uninitiated, a cricket team consists of 11 players, including a batter, a bowler and wicket keeper.
Bowlers and wicket keepers serve in very much the same capacity as baseball's pitcher and catcher, respectively.
Each game consists of innings.
A team has to "out" 10 players from the opposing team before it takes its own turn at bat.
The better-hitting team with the most runs across the rectangular pitch is the victor.
Regarding Saturday's activities at the Northern Community Centre, an outdoor cricket event was originally envisaged.
Duane told SooToday.com: "We were talking about having outdoor snow cricket, but with the move of Bon Soo events down to the Bondar Pavilion, there just wasn't the space, but working with the folks at Bon Soo, we were able to get a nice little partnership with the City and they were able to provide the space here for free which is nice, but hopefully we'll have snow cricket next year with a cricket field, maybe at Bellevue Park."
The "Bon Soo Welcomes Cricket" event was just for fun and non-competitive.
While there was lots of fun and friendly banter (which is what Bon Soo is all about), Mr. Bon Soo himself was not in attendance.
Because of his endearing but rather large head, Duane joked that Mr. Bon Soo probably wouldn't have been able to perform well as a cricket bowler.
Oh well...
Meanwhile, Duane reminded us of another enjoyable community festival, namely, the upcoming Passport to Unity festivities, to be held May 2 to May 4.
"It'll be three full days of activities, we're really excited about it," Duane said, adding that cricket, like last year's Passport to Unity events, will form part of the activities to be enjoyed.
"We'll be having a Northern Ontario cricket tournament at the Northern Community Centre, with teams from the Sault, Thunder Bay, North Bay, I'm working on Sudbury and Timmins and putting our feelers out to Southern Ontario."
"On our Sault team, we have a core, committed group of 20 to 30 guys who play regularly, and we play once a month at the Northern Community Centre and once a month at the George Leach Centre at Algoma University."
"It's a nice partnership with the City and Algoma University," Duane said.