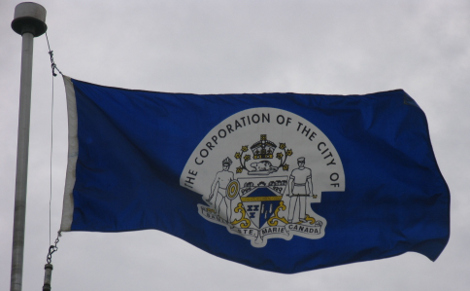 A resolution put forward by Ward 3 Councillor Matthew Shoemaker, calling for a new, official municipal flag, was passed by council Monday.
Shoemaker, along with councillors Susan Myers and Judy Hupponen, will sit on a committee struck by council to help unfurl the flag process.
"We don't really have an official flag," Shoemaker told council, pointing out some miniature Sault Ste. Marie flags sport the city's crest against a blue background while others have the Sault's "Naturally Gifted" brand against a green background.
"We need an official flag, right now we have two versions of a flag," Myers said in agreement.
There was no official timeline given or discussion of the cost of the flag project at Monday's meeting.
Wording of the original resolution called for proposals for a new municipal flag until December 31, 2015.
Councillors decided, however, to go in-house and consult designers who work for the city in regard to a design for a new municipal flag.
The resolution noted the new municipal coat of arms is in the final stages of approval from the Office of the Governor General of Canada and that the new coat of arms will mean a necessary change in the Sault's municipal flag.
The city's municipal crest (which is not an official coat of arms) is currently shown on the city's existing municipal flag on a light blue background.
The city's new official coat of arms, along with a corresponding coat of arms for the Sault Ste. Marie Police Service, was unveiled in March, 2014.
In another matter from Monday's council meeting, it was resolved councillors Myers and Hupponen be appointed co-chairs of the Mayor's Committee-Celebrate Canada 150, with staff from the city clerk's office, finance and community services departments.
(PHOTO: Sault Ste. Marie's current municipal flag, photo courtesy of Ward 3 City Councillor Matthew Shoemaker)