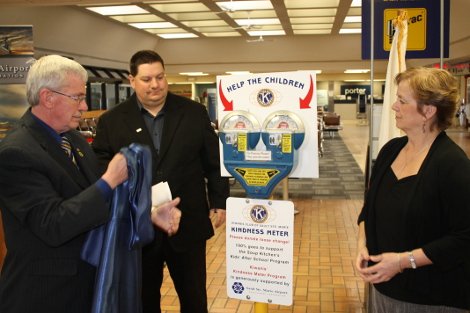 The Kiwanis Club of Sault Ste. Marie's Vice-President Jim Turnbull, accompanied by several local VIPs, unveiled his club's fifth local Kindness Meter at the Sault Ste. Marie Airport Wednesday.
Four previous Kindness Meters (decommissioned City of Sault Ste. Marie parking meters) have already been installed by the Kiwanis Club at Pino's Get Fresh, Rome's, Harvey's and A & W.
The public is encouraged to deposit their loose change in the meters (except pennies!), with all proceeds going to the Sault Ste. Marie Soup Kitchen.
Turnbull told SooToday.com "people can go in and place coins in the meter, and now that pennies have been taken out of circulation I don't have the headache of unjamming the machines on a weekly basis."
The Kindness Meter program, established in 2011and aimed at helping the local Soup Kitchen, has been able to raise approximately $2,400 over the last two years, Turnbull told SooToday.com.
Turnbull was joined at Wednesday's Kindness Meter unveiling by Sault Ste. Marie Mayor Debbie Amaroso, the Soup Kitchen's Colette Gray (supervisor of children's programming), Sault Ste. Marie Airport Development Corporation (SSMADC) CEO Terry Bos, SSMADC Business Operations Supervisor Jim Bresnahan and Kiwanis officer Mike Duguay.