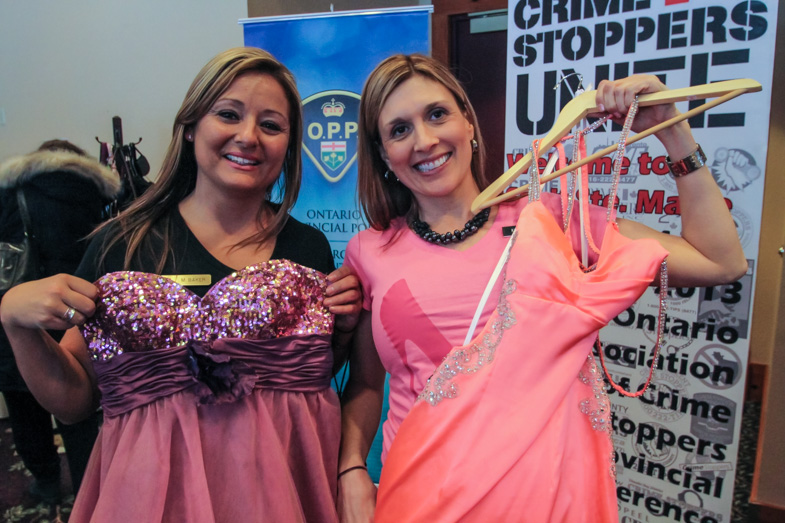 More than 70 young ladies attended the first ever Operation All Dressed Up event at the Water Tower Inn this past Saturday afternoon.

An initiative designed to foster self esteem and ease financial strain on area struggling families, Operation All Dressed Up offered Grade 8 and Grade 12 students in the Algoma region the opportunity to take home one of more than 400 donated formal gowns for upcoming graduation ceremonies.

Coordinated by Sault Ste. Marie OPP Constable Monique Baker and Sault Ste. Marie Police Services Constable Alison Kirkpatrick (pictured), the event also offered free accessories, including shoes, purses, hosiery, and jewelry.

"It's been somewhat emotional," Cst. Baker told SooToday.com. "We've had girls that have come in that are homeless or have had rough lives. It's so nice to see them smile."

In addition to the donated dresses and accessories, each participating girl was given a free Sault College hair and esthetician program appointment to have their hair and makeup done the day of graduation.

They also received a free graduation portrait courtesy of Kevanna Studios.

"I think a lot of the girls were quite surprised when they walked in and saw the choices and what was offered," Cst Baker said. "They weren't quite expecting this. And in reality, neither were we."

She said the event will be an annual initiative presented by Crime Stoppers.

"This is Crime Stoppers' way of giving back to the community," she told us. "And it's a way for Alison and I to interact with youth. We're both police officers, so it's also a way for us to mentor these girls. They can see us not only in our roles as law enforcement, but also as human beings. We're women and we enjoy this stuff too."