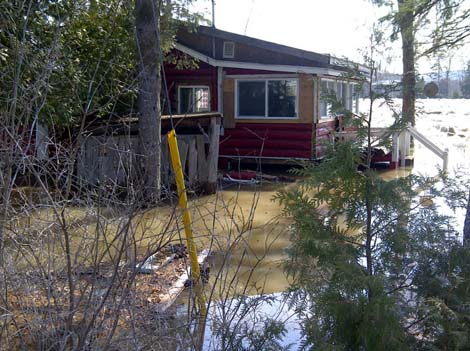 Faithful SooToday.com reader Kelly Taillefer sent us additional photos (cover shot and photos 1-4 in the attached photo gallery) of the flooding in the Goulais River region.

"Normally this is a 10 foot high bank with stairs leading down to the river," she told us. "As you can see, the water is creeping into the yard."

Meanwhile, Nick Pistor submitted his own dramatic pictures (photos 5-14 in the attached photo gallery) of the area, and Steve Devlin snapped some shots (photos 15-22 in the attached photo gallery) of his brother's property at the very west end of Olar Road in Goulais.

"Sault Search and Rescue got the family out safely, and by the time they left, the waters had receded substantially," Devlin wrote to us. "But my brother was told that there is still a significant amount of ice and water making it's way down the river, so it's possible that the worst isn't over yet."