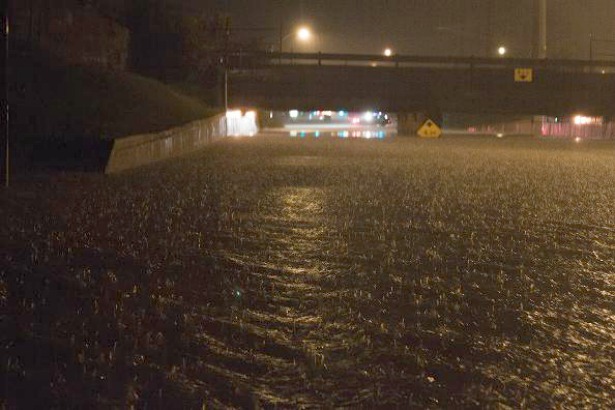 As we approach the one-year anniversary of heavy rains and flooding which struck Sault Ste. Marie September 9, 2013, most of the damage done to the city's infrastructure has been repaired, while some still needs to be addressed.
Other incidents of flooding, one less serious, occurred July 26 and another severe flood struck November 17.
"The roadways are all repaired, a lot of the culverts have been replaced, and as far as bridges are concerned there are still some bridges that are under repair, but for the most part we have most of the damages all repaired," said Larry Girardi, city commissioner of public works and transportation, speaking to SooToday.com Monday.
It was not possible for all repairs to be done before last winter's heavy snow fall.
"Throughout this summer, as we worked in different zones, we did a lot more culverts as part of the program council passed for us, to do a lot more culvert work this year and do some catch up, but we're actually in pretty good shape right now," Girardi said.
Don Elliott, city director of engineering services, told us "there were probably about a dozen or so bridges and box culverts that were damaged and most of them are all repaired, with the exception of two."
"One is the bridge going north of Fourth Line on Great Northern Road over the Root River, it has some scour problems on the downstream on the east side…the bank beside the highway needs to be stabilized."
"The other bridge is a small bridge at the north end of Old Goulais Bay Road, north of Fifth Line near Canon Creek…we have a temporary bypass bridge that's been in place for several months now and the contractor is now getting to reinstate the original structure," Elliott said.
Council awarded the tender to Belanger Construction for both repair projects.
Elliott said the bridge on Allen's Side Road north of Third Line was due to be replaced.
"We have a much better facility in there now than we did before the flood…it wiped out something we were going to be tearing out in the next few years anyway."
The city estimated flood damage to municipal infrastructure at $2.9 million, private damages at $1 million.
Sault Ste. Marie's application for funding to deal with flood damage through the Ontario Disaster Relief Assistance Program was turned down by the province.
In a letter to the city from Ministry of Municipal Affairs and Housing Minister Jim McMeekin, dated July 23, the minister wrote "After careful consideration of the information provided (to the province by the city after the flooding), along with analysis conducted by ministry staff, I have concluded that amount of these estimated damages is not beyond the financial capacity of the city to manage."
Joe Fratesi, the city's chief administrative officer, said $2.9 million was earmarked by the city to deal with the aftermath of the 2013 flooding, with other infrastructure projects deferred.
"We also put in an extra $300,000 on a one-time basis towards extra ditching that was recommended to us to do, and we've made some applications for rain-monitoring stations that would help us better predict amounts of rain because the amount of rainfall varies from one part of the city to another."
"We've received several reports that have told us for the most part our storm systems are designed to a standard that's much higher than most municipalities are designed for…(but) no municipality could ever prepare for a 100-year storm like we had on a regular basis," Fratesi said.
"The work for the most part has been done…it's either been done and fixed or we know what it costs and budgeted for it and it's being done as we speak."
Meanwhile, Girardi told us "We are as ready as we can be if we have to entertain another flood."
Girardi offered advice as to how Sault residents can be prepared, and how to assist the municipality, if this fall brings more flooding.
"One thing you want to do is maintain your sump pump and make sure you have a battery back up system on your sump pump in case the power goes out for a considerable amount of time."
"With catch basins, if you're on a ditch street, there's always a grate at the end of that street and during a storm it's going to build up with debris such as leaves…someone can go down with a rake and and remove that debris."
"If you're on a corner lot sometimes garbage can collect …clean it out, because these are the kinds of calls we get in a storm," Girardi said.
Girardi added he has been monitoring the long-rang forecast in regards to rain and snowfall.
"I almost see the same pattern of weather as what we had last year…they (the weather services) are anticipating another heavy snowfall this year."
"I hope they're wrong, but that's what is anticipated, and I don't doubt that heavy rain will precede the snowfall and saturate the ground," Girardi said.
"We are preparing ourselves for a couple of good rainstorms…we've done a lot of ditching and cleaned out a lot of creeks and our staff is ready if it happens."
As for snowfall, Girardi said his department's snow management allowance, which runs from January to December, is already over-budget, with the months of November and December yet to come.
However, Fratesi said "while public works may be overspent on snow removal they'll be underspent in other areas…the corporation at the end of the year will hopefully continue to turn a surplus which will be able to absorb the over expenditure on snow removal."
"There's a pretty good chance other areas will come in underspent, with a reserve for snow removal."
(PHOTO: SooToday stock shot shows the railway bridge underpass on Wellingtion Street West on September 10, 2013.)