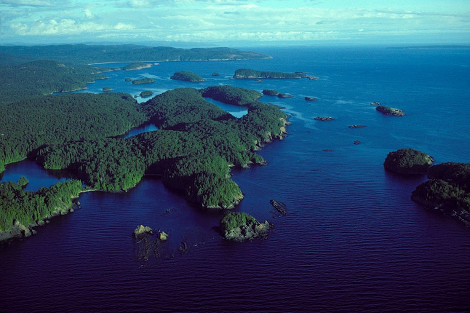 NEWS RELEASE
LAKE SUPERIOR WATERSHED CONSERVANCY
*************************
(Photo "Islands", © Gary and Joanie McGuffin, shows twenty Islands off the Coast of Lake Superior Provincial Park in Gargantua Bay)
Lake Superior Watershed Conservancy (LSWC) is an international non-profit organization, dedicated to ensuring the long-term sustainable health of the Lake Superior watershed through basin-wide communication, education, scientific study, preservation and conservation of Lake Superior and its ecosystems.
As a world wonder, Lake Superior is the world's largest fresh water lake that combines pristine natural resources of land, clear water, abundant wildlife, forested landscapes, breathtaking views, storms, sunsets, established national, state and provincial parks, and the world's largest Marine Conservation Area, to create a world wonder.
As part of the preservation effort, LSWC is excited to announce the acquisition of two special parcels of lands and 20 islands off the coast of Lake Superior Provincial Park in Gargantua Islands.
Through the facilitation of LSWC, a total of 128 acres of 20 pristine islands, off the coast of Lake Superior Provincial Park were preserved through a landmark "cross border" gift to American Friends of Canadian Land Trusts.
The largest of these islands is Devil's Warehouse Chair.
The archipelago contains high natural and cultural heritage values.
With nesting Perigrine Falcons, and arctic alpine plants, these undeveloped pristine islands also have great scenic and recreational value for paddlers, hikers, and backcountry campers.
Through the years, many people assumed the islands were part of the Lake Superior Provincial Park.
Since the early 1900's, the archipelago was owned by an American family.
The great great grandfather of the present generation was a lawyer in Detroit.
A client could not pay his bill for services rendered so the client deeded the islands to the lawyer for payment.
The deed was passed to the great grandfather, to father, to mother, then to the present three sons.
When the three sons decided to dispose of the islands, LSWC, being a "donee" of American Friends arranged for them to gift this impressive property to American Friends so that their donation would be tax deductible in the U.S. Stewardship of the islands is the responsibility of Lake Superior Watershed Conservancy.
Opportunities for cross-border land owners
American Friends of Canadian Land Trusts is a U.S. charity created to facilitate the permanent protection of Canadian lands owned by conservation-minded Americans.
Until very recently, Americans hoping to conserve properties they own in Canada were thwarted by tax barriers created by both U.S. and Canadian laws.
Significant problems could arise if cross-border conservation gifts are not handled properly.
American Friends of Canadian Land Trusts (AF) is a U.S. based publically supported 501 ( c) 3 charity which allows U.S. taxpayers to benefit from tax incentives aimed at protecting environmentally significant land.
The cross border program created by American Friends, has two key elements to it.
First, the U.S. taxpayer receives a charitable receipt which allows them to receive a U.S. tax deduction for the charitable gift.
Secondly, based on AF's status as a 'prescribed donee' under the Canadian Income Tax Act, the Canadian capital gains tax is eliminated.
Thus, two major impediments to donations to environmental preservation are eliminated when donors work through American Friends.
A cranberry bog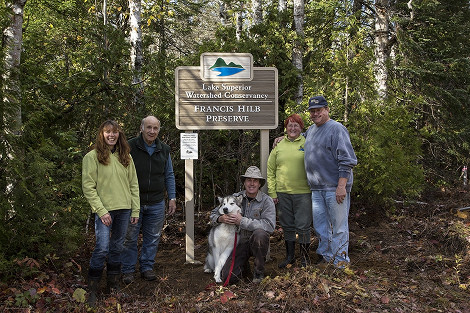 (Photo "Francis Hilb Preserve (rare cranberry bog)", © Gary and Joanie McGuffin, shows (left to right), Joanie McGuffin- LSWC Secretary, Frank Hilb- donor, Luna, Gary McGuffin-LSWC Board Member, Ruth O'Gawa- LSWC, President, Ford Upton- LSWC volunteer)
Another donation to Lake Superior Watershed Conservancy was made by Frank Hilb of Sault Ste. Marie.
The eight acre Francis Hilb Preserve is a rare coastal cranberry bog located on the northeast side of Goulais Bay.
An 800 foot (250m) long sand beach and low terrace forms a natural, permeable dam between the cranberry bog and the shallow waters of the bay.
There are many forest species, pitcher plants, sundews and others special plants living in this giant sponge ecosystem.
It is important habitat for a diversity of insects, birds, amphibians, reptile, and mammal life.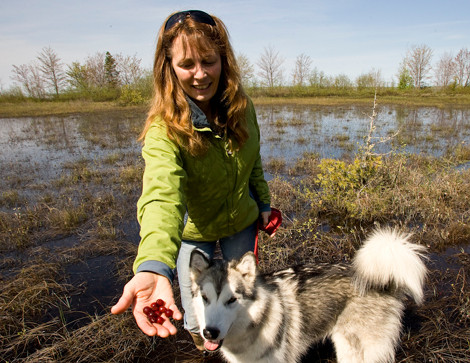 Frank Hilb says "My father would be very pleased to know some land has been preserved in his name for perpetuity".
Francis Hilb was born in Budapest, Hungary in February 1912.
His family was involved in timber trade in Austria, Germany, Hungary, Romania, and Poland. He attended
University in Budapest and studied business administration.
He was a man who had a talent for remembering figures.
Playing bridge was a favorite pass time.
Francis loved to travel.
He visited many countries throughout Europe and always maintained a love for the lakes and mountains wherever he went.
Life and the political situation in Europe brought Francis and his wife and children to Canada in 1951.
They settled in Southern Ontario and proceeded to establish a life beginning with the opening of a box lunch business and then beginning his land development career by buying and reselling small homes.
He had business ventures in Mississauga and Muskoka.
In the early 1960's, in Sault St. Marie, he ventured into a shopping mall, apartment buildings and developing land for subdivisions and small office buildings.
Then, in the early 1970's his interest again returned to land and he and a group of partners purchased a large tract of land, both waterfront and interior acres, in the Goulais peninsula.
Francis would come to the north every summer.
He continued to show lots that were in inventory until he was ninety-five.
He would visit his customers every year and bring bags of cookies and chocolate for everyone.
The children nicknamed him Mr. Chocolate.
Frank says, "He loved Lake Superior and all the surrounding vistas. He used to say that God only made these beautiful sights for us to care for. And He will make no More.
Francis passes away in 2007. He left a legacy for his children, grandchildren and great grandchildren and he taught us to love this land and appreciate what we have."
At the Preserve, Lake Superior Watershed Conservancy will develop a research and educational program for the local school children.
For LSWC, stewardship and monitoring of the property, is done by designated volunteers in the neighborhood.
80 acres at the headwaters of Big Carp Creek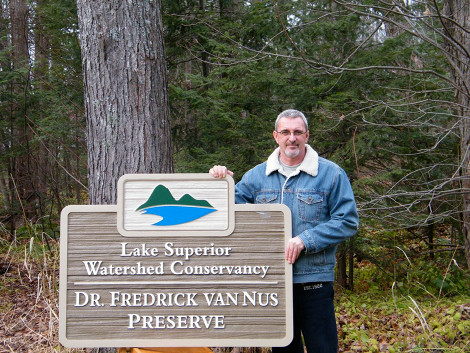 (Photo of the Dr. Fredrick van Nus Preserve, courtesy of Mike Ripley, shows Michael Belsito, LSWC volunteer)
The third parcel of land is the Dr. Fredrick van Nus Preserve.
Lake Superior Watershed Conservancy purchased the 80 acres of pristine wilderness at the headwaters of the Big Carp Creek in Prince Township in 2011.
The family of Dr. van Nus live in Alberta and contacted LSWC to purchase the land in memory of their father.
Dr. Frederick van Nus was a humanitarian, naturalist, conservationist and an environmentalist with a strong belief in community.
His acquisition of the 80 acre property in Prince Township over 50 years ago was for the purpose of conserving this land in its natural state and giving sanctuary to the wildlife and flora found there.
Moose, beaver, and bear were to be left unmolested by man to enjoy refuge in their natural habitat.
The Voyageur Trail crossed the southern part of the property for hikers and skiers to enjoy the beauty of nature.
Dr. van Nus also believed in reclamation of lands and worked tirelessly to recuperate another property to become a tree farm and sanctuary for the cougars and elk on the west coast near Vancouver, Washington.
His love of nature created an excitement in those who had the privilege of participating with him in his pursuits of natural conservation in many areas including salmon, trees, bats, and other wildlife.
His career path took him through the U.S. Army Medical Service Corps for 28 years before retiring with five military service awards including the U.S. Military Bronze Star for bravery.
He moved on to Professor of Optometry, University of Waterloo, Ontario for a number of years before going to the Pacific University, Forest Grove, Oregon, where he established an Optometric internship program of service to the Colville and Quinault Indian Reservations.
His membership in professional, service and social organizations were numerous. Lions International awarded him the Melvin Jones Fellow award for dedicated humanitarian services.
He was active in many environmental, Optometric, art and cultural organizations.
Dr. van Nus's daughter says "The family of Dr. van Nus feels it is a great honour and privilege to have The Lake Superior Watershed Conservancy continues to carry out his wishes, to protect this acquired natural habitat in the same manner that Dr. van Nus had done. The Lake Superior Watershed Conservancy has done a fine job in preserving this property for human enjoyment and the conservation of the natural habitat and wildlife there. The van Nus family hopes the general public will appreciate this beautiful piece of property, in Prince Township, for years to come."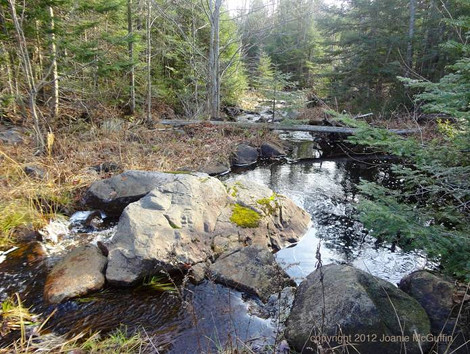 (Photo "Dr. Fredrick van Nus Preserve", © Joanie and Gary McGuffin, shows the headwaters of Big Carp Creek in pristine forest area.)
Protected natural areas open to the public
Lake Superior Watershed Preserves are posted with signs saying,"Protected Natural Areas. Open to the Public for Recreational and Educational Purposes. Vehicles, ORVs, Hunting, Camping, Removal of Plants, dumping, and fires are Prohibited."
LSWC President, Ruth O'Gawa states that "these preserved areas are worth protecting for environmental and economic reasons. They will be enjoyed by many for generations."
LSWC is involved in many projects around Lake Superior like a Lake Superior Heritage Coast designation, water trail mapping, hiking trail, education and more.
There are thousands of acres and shorelines available to purchase and LSWC is seeking opportunities to raise funds to purchase them.
For more information on how to make a donation or become involved in this Conservancy movement, email lswc@shaw.ca , visit LSWC Web site or call U.S. office, 231-347-9387, Canadian office, 705-946-0044.
*************************