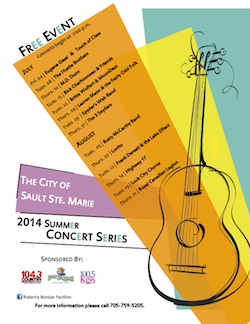 The annual Summer Concert Series, graciously hosted by the City of Sault Ste. Marie, will once again grace the city's beautiful waterfront this year with a bit of something for everyone.

Each July and August, the city hosts the entertainment series at the Roberta Bondar Tent Pavilion, suitable for all ages.

The upcoming schedule features performances by many familiar artists and a few new faces, including Lauren Mann and the Fairly Odd Folk who recently won CBC's Searchlight 2014: The Hunt for Canada's Best New Artist.
For their song I Lost Myself, the band was awarded $20,000 in new Yamaha music gear, a showcase slot at the CBC Music Festival in vancouver earlier this month with Tegan and Sara, and a recording session with CBC.

All Summer Concert Series performances begin at 7 p.m. and are free to attend.

July
Friday, July 4 - Eugene Gassi and Touch of Class
Tuesday, July 8 - The Hustle Brothers
Thursday, July 10 - MD Dunn
Tuesday, July 15 - Rick Charbonneau and Friends
Tuesday, July 22 - Britta Wolfert and MoonDazz
Thursday, July 24 - Lauren Mann and the Fairly Odd Folk
Tuesday, July 29 - Spyder's Web
Thursday, July - 31 - The 3 Snyders
August
Tuesday, August 5 - The Rusty McCarthy Band
Thursday, August 7 - Lovito
Tuesday, August 12 - Frank Deresti and the Lake Effect
Thursday, August 14 - Lock City Chorus
Thursday, August 21 - Royal Canadian Legion
For more information about the Summer Concert Series, please call 705-759-5205.