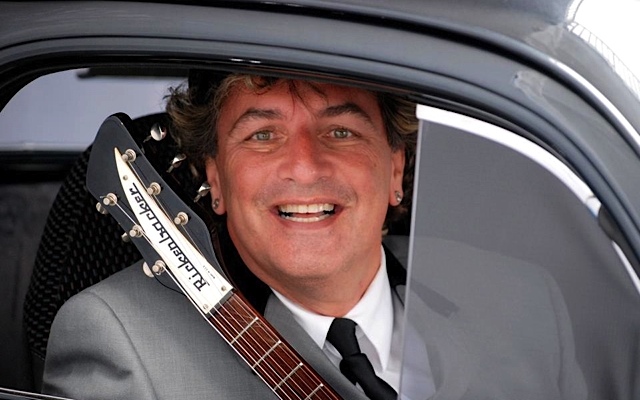 We had the chance to ask some questions to Mick Dalla-Vee, part of the Beatles tribute band Revolver that will be playing in the Sault on September 13.
He will also be playing the Kiwanis Community Theatre Centre in October with Randy Bachman.
Mick grew up in Sault Ste. Marie, before moving out west where his music career really took off.
*************************
Q: How did you get involved in this Beatles tribute band?​

A: Rocket Norton (our drummer in Revolver and originally the drummer in the band Prism) was approached by Expo 86 to put together a band that would play 60s nostalgia.
He recruited Michael Sicoly and I as part of that package because he knew that we could sing and play a lot of that material.
86 Street was about a 1200 Seater room that was open to all ages. We played there for 2-3 weeks.
About 4 days into our gig there, we walked in to find the sound man blasting Beatles music over the PA system.
We ran up to him and said 'Please don't play the same music we're going to do before our show'.
He replied, 'This isn't the Beatles. This is a tape of you guys from yesterday!'
We were all stunned at how close our Beatles material sounded to the records.
At that point we decided to maybe make a bit more of a serious attempt at doing an actual Beatles show.​

Q: What is it about your show that makes it so different than the rest?

​A: Although we use period costuming and the actual same interments The Beatles used throughout their career, we don't wear wigs or 'pretend to be the Beatles'.
Instead, we bring people on a musical journey telling the stories and event around the songs that shaped a generation and still continues to.
In other words, we are participating in the love of the Beatles music like the audience is.
We're simply the ones 'channeling them' if you like​.

Q: What is it about the Beatles Music that makes it so great to cover? The music, the costumes? The personalities?
A: Probably all of it. You have to realize that The Beatles first hit North America on February 9, 1964 when they played for the first time on The Ed Sullivan show.
Up until then North America never heard of them. Their last album was done the early summer of 1969.
Now think of all the music and the transformations the Beatles went through in that time, all the while continuously delivering the greatest music the world has ever heard to this day.

Q: In your years as a musician, Have you ever met one of The Beatles yourself?
A: In 2005, I was able to be at McCartney's soundcheck at Air Canada Centre in Toronto when my own band was asked to open the NHL Season after the strike the previous year.
At one point I found myself not more than 15 feet from him.
He looked at me, smiled and said 'Lay low mate… lay low…' What he exactly meant I don't know, however all I know is, I couldn't reply. I was tongue tied…

Q: How does it feel playing back in your hometown of Sault Ste. Marie? I mean the last time you played here was in 1989?!

A: I LOVE the Sault. When I come back to the Soo I exhale.
All my dreams were created here. When I come back I'm a teenager again.
Michael Sicoly and I are absolutely ecstatic that we're coming home to play.
Ironically the only time I've personally ever 'professionally' played in the Soo was the early summer of 1989 with a very early incarnation of Revolver.
The gig was in a ballroom at The Ramada Inn on Great Northern Road if I recall correctly.
I'm extremely happy that this time around we're getting to do the proper theatrical experience at Kiwanis Community Theatre Centre.
I do know I plan to stay for a few days after to have fun with friends and family.
Ironically I found out the last time I was in the Soo a few weeks back that I am also playing the Kiwanis Community Theatre Centre in October with Randy Bachman.
I have worked with Randy for about 13 years now and have never had the opportunity to play the Soo with him either.
So for me this is a great one-two punch.
*************************