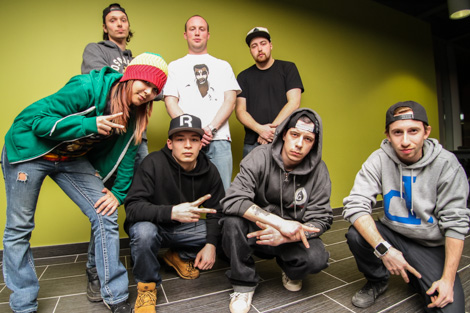 It was a throw down, a show down…

A collection of area urban artists gathered earlier this month at Sault College's Odeno for An Audition With No Name, a music competition to determine the openers for the upcoming Sault Ste. Marie appearance of A Tribe Called Red.

Presented by Passport To Unity in conjunction with Ears and Eyes, 8:56, and Soo York City, the battle included Conika, Mic Swiff and JFK of LOCAL, Benjamin, Jay C, Killabeatz, and Outspoken.

Each artist was allotted three songs to show judges Alexander Wood, Hillary Trudeau, David Thompson, Alisha Rossett, and Adam Hayward they had what it takes to share stage time with recent Juno Award winners A Tribe Called Red (ATCR).

When the big moment arrived, event emcee Duane Moleni announced that both LOCAL and Outspoken had been awarded opening spots for the Saturday, May 3 Passport To Unity event with ATCR.

Outspoken has been a fixture in the Sault hip hop scene for the past 10 years and told SooToday.com that he always strives to involve area youth to encourage them to hone their own creativity.

"I'm really excited that we all get to perform together for a Tribe Called Red," he said of the win. "[ATCR are] very unique and bringing modernization to culture for youth to connect with. I really think that's a beautiful thing."

The lads from LOCAL, which stands for Live Only Culture And Love, were rendered almost speechless when they were announced as winners.

"We don't see too many bright sides, so the win for me was precious," said Mic Swiff. "This was something I definitely wanted to be a part of. Although, if we didn't get the win, I would have still been happy that this happened in the Sault. It opened things up for a lot of people and I wouldn't mind giving anyone the opportunity. I feel blessed."

Passport To Unity hosts ATCR with Outspoken and LOCAL on Saturday, May 3 at the Sault College Health and Wellness Centre.

This all-ages event kicks off at 8 p.m.

Tickets are currently available online or in person at 503 Queen Street East.

Prior to the performance, fans are invited to get up close and personal with ATCR as event organizers host a free meet-and-greet with the band at Sault College Enji Maawnjiding, Room G1200 at 2 p.m.

This year's three-day Passport To Unity celebration kicks of this Friday, May 2 with Diversity Downtown on Queen Street between March and Spring from 11:45 a.m. to 1:15 p.m.

This free event offers attendees the opportunity to taste, watch, and listen to the Sault's growing and diverse culture community.

Official opening ceremonies will take place later that evening at the Algoma Water Tower Inn Pavilion at 7 p.m. and will include a keynote address from Leo Johnson, the presentation of the Community Driven Awards, and a flamenco performance from Maria Osende.
SooToday.com and Local2 are giving away four tickets to A Tribe Called Red (and Friday and Sunday's Passport to Unity events too) to four lucky people who submit photos that embody culture or diversity.
But you've only got until 9 p.m. tonight to enter.
To find out how to enter, click here.
For more information about Passport To Unity, please click here

To learn more about A Tribe Called Red, click here where you can download their first album for free.