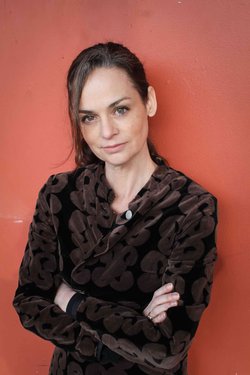 NEWS RELEASE
LAKE SUPERIOR STATE UNIVERSITY

*************************
SAULT STE. MARIE, MI -- Critically acclaimed and best-selling writer Julianna Baggott will visit Lake Superior State University on Thursday, October 1, for a reading of her work, writing lecture, and public reception.
The public is welcome to hear Baggott's work, ask questions about the writing process and purchase signed copies of her books from 7 - 9 p.m. during the reception and reading in the Walker Cisler Center's Crow's Nest.
Here books are also available for purchase at Barnes and Noble-LSSU on campus.
Earlier in the day, at 11 a.m., Baggott will talk about writing post-apocalyptic fiction and other genres, and she will give a free master class on creativity at 2 p.m.
All aspiring writers and interested readers are invited. Admission is free.
Registration for the lecture and master class is recommended by contacting Professor Janice Repka via email at jrepka@lssu.edu.
Writing under her own name and under the pen names Bridget Asher and N.E. Bode, Baggott has had more than 20 books published, with over 100 foreign editions.
Her most recent release is Harriet Wolf's Seventh Book of Wonders, which Kirkus Reviews calls "an ambitious portrait of a family created from equal parts secrecy and love."
Her young adult novel Pure, the first in a three-part post-apocalyptic trilogy, was a New York Times Notable Book of the Year for 2012 and ALA Alex Award winner; it is in development with Karen Rosenfelt, the lead producer of The Twilight Saga, at Sunswept Entertainment.
Baggott began publishing short stories when she was 22 and sold her first novel while still in her twenties.
After receiving a master in fine arts degree from the University of North Carolina at Greensboro, she published her first novel, Girl Talk, which was a national bestseller and was quickly followed by The Boston Globe bestseller The Miss America Family, and then The Boston Herald Book Club selection, The Madam, a historical novel based on the life of her grandmother.
She also co-wrote Which Brings Me to You with Steve Almond, A Best Book of 2006.
Her Bridget Asher novels include The Provence Cure for the Brokenhearted, The Pretend Wife, and My Husband's Sweethearts.
She has also published award-winning novels for younger readers under the pen name N.E. Bode as well as under Julianna Baggott.
Her seven novels for younger readers include: The Anybodies trilogy, which was a People Magazine summer reading pick, a Washington Post Book of the Week, a Girl's Life Top Ten, and a Booksense selection; The Slippery Map, and The Ever Breath.
For two years, Bode was a recurring personality on XM Sirius Radio.
Baggott's Boston Red Sox novel The Prince of Fenway Park was published in spring 2009.
It is on the Sunshine State Young Readers Awards List and The Massachusetts Children's Book Award for 2011-2012.
Baggott also has an acclaimed career as a poet, having published three collections of poetry – This Country of Mothers, Compulsions of Silkworms and Bees, and Lizzie Borden in Love.
Her poems have appeared in some of the strongest literary publications in the country, including Poetry, The American Poetry Review, and Best American Poetry (2001, 2011 and 2012).
Baggott's essays have appeared in The New York Times Book Review, The New York Times Modern Love Column, The Washington Post, The Boston Globe, The International Herald Tribune, Glamour, Real Simple, and Best Creative Nonfiction.
They have been read on NPR's Here and Now and All Things Considered. Her essays, stories, and poems appear in many anthologies.
Baggott is an associate professor at Florida State University's College of Motion Picture Arts, and holds the William H.P. Jenks Chair in Contemporary American Letters at the College of the Holy Cross.
Her visit to Sault Ste. Marie is part of by the Lake Superior State University Visiting Writer Series, which is organized and sponsored by the LSSU English Dept.
It was created to bring highly-acclaimed literary authors and poets to the campus to raise awareness of LSSU's expanding creative writing program and to bring together the community and college in a shared literary experience.
LSSU offers both an undergraduate major and minor concentration in creative writing.
An intimate program with enthusiastic faculty, the program encourages innovation and experimentation as students develop their voices.
Students complete coursework in prose, poetry, and performance writing, and are given opportunities to get publishing experience before graduation.
Learn more at lssu.edu/english/creativewritingatlssu.
*************************