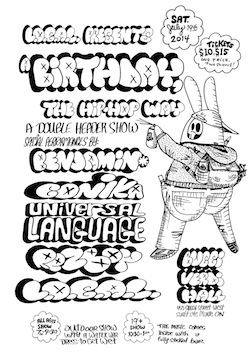 In the mood for a little hip hop?

How about a lot of hip hop?

Well, never fear as Sault hip hop outfit L.O.C.A.L. (Live Only Culture And Love) is excited to host a day of original local talent at the Verdi Hall (455 Queen St. West) on Saturday, July 19.

The day begins with an all-ages outdoor show from 7 to 9:30 p.m. complete with a water battle royale.

Be sure to dress to get wet!

For those aged 19 and older who wish to partake in a frosty adult beverage or two, performances will move inside at 10:30 p.m. for the licensed portion of the event.

Featured performers throughout the day include Benjamin, Conika, Universal Language, RezBoy, L.O.C.A.L., Blaq Roche, Morgan M.O. Little, and comedy from Ray Lemieux.

Tickets (includes both shows) are $10 in advance or $15 at the door.

Children under the age of 13 must be accompanied by an adult.

Keep up with all show details by following the official Facebook event page.