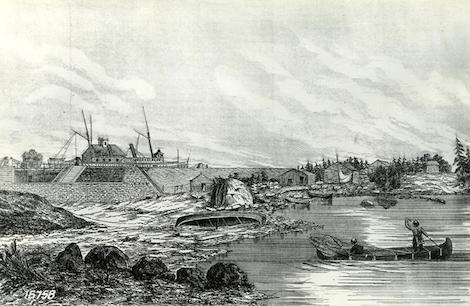 Did you ever wonder why both the U.S. and Canada built lock systems at Sault Ste. Marie?
The Sault Ste. Marie Public Library tells us below:
*************************
'Chicora Incident' – When Two Neighbours Disagree!
Between 1797 and 1798 the North West Company had built a lock and canal system to easily move men and furs between Lakes Superior and Huron.
This original lock and the adjoining North West Company Trading Post were destroyed in 1814 by American troops en route to Fort Michilimackinac which left both Canadians and Americans without a lock and canal.
In 1837 both the American and British governments began exploring the idea of building a new canal.
The Americans completed their lock in 1855 allowing both American and Canadian ships to use the lock so any British plans for building their own lock were dropped.
The "Chicora Incident" in 1870 renewed the demand for a Canadian lock to be built.
In that year the steamship Chicora, under the command of Colonel Garnet Wolseley, was transporting soldiers, munitions and supplies to Fort Garry Winnipeg to help quell the Red River Rebellion.
When the Michigan Governor H.P Baldwin learned of the movement of these ships he immediately notified the Department of State in Washington and instructions were sent to prevent the passage of the Chicora, even though the steamer, the Algoma, had passed through just before this time without any problems.
The directive from the President of the United States was that "no military expedition of any foreign power whether of troops or of boats intended for this purpose is taking part in any military or warlike material be allowed to pass through that Sault Ste. Marie canal without express instructions from Government at Washington."
In an attempt to remove the military element of this expedition, the troops and munitions were offloaded in Lake Huron and moved along the old portage road to Lake Superior.
However, the now empty Chicora was again denied permission and held in abeyance for two weeks before the matter was resolved.
Finally the British ambassador intervened with the Department of State and permission was granted for the Chicora to pass through the American lock.
The decision to construct a Canadian lock was now considered imperative and the canal and lock system was completed in 1895.
The Canadian lock measured 7,294 feet in length, with a lock measuring 900 feet long by 60 feet wide.
It was actually the world's longest canal for one year, until the Poe lock opened on the American side the following year in 1896.
*************************
Each week, the Sault Ste. Marie Public Library and its Archives provides SooToday readers with a glimpse of the city's past.
Find out more of what the Public Library has to offer at www.ssmpl.ca and look for more Remember This? columns here.