Welcome to SooToday's web feature we like to call the Good Deeds page.
If you know of any unsung do-gooders that deserve some recognition for making a difference in our community, e-mail derek@sootoday.com with information and pictures, and you could be featured next time!
****************************************************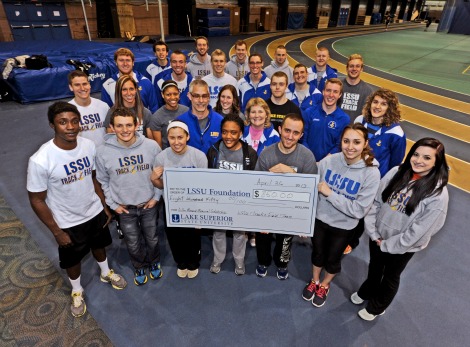 Members of Lake Superior State University's track and field team pose with an $850 ceremonial check presented to the Dillon F. Menard Memorial Scholarship fund.
The team earmarked 10% of all proceeds from annual fundraising projects to benefit the scholarship.
Standing with them are Dan and Janice Menard, from Negaunee, Mich., who were on campus to celebrate commencement weekend with friends of their son Dillon Menard, who would have graduated this past May.
Dillon was starting his sophomore year in engineering at LSSU as a resident assistant when died unexpectedly on Aug. 21, 2010, due to a heart condition. His namesake scholarship was established in October, 2010, after a campus-wide memorial benefit in LSSU's Arts Center, and with the renaming of an existing 25K Challenge Scholarship, established in 2007, to honor Dillon.
The scholarship endowment benefits a LSSU track and cross-country team member who is not currently receiving any other athletic scholarship support.
Run a Web search on "Dillon F. Menard Memorial Scholarship" for full scholarship information and ways to make a gift to the fund. (LSSU/John Shibley)
******************************
Make sure to check out our archive for more Good Deed Stories
Good Deeds Archive Click Here