After coming a close second in two consecutive federal elections, councillor-elect Sonny Spina will be a new face around the horseshoe in council chambers after winning one of two seats in the city's Ward 1.
With all tabulators counted, Spina finished with 30.91 per cent of the vote, second to his new ward mate Sandra Hollingsworth.
"I am happy to be in a position where I can effect significant positive change in our community," said Spina by phone on Monday. "This is an area I know I can have a tremendous impact on the health and well-being of our citizens and helping future Saultites to come to our city and find an incredible work-life balance and raise their families here, grow the economy and grow our community together."
"It's exciting because it's a new mayor and a lot of new councillors to work with, but a lot of familiar faces for me," he added. "These are people I have worked with time and time again. Together we have shown we can be successful when we work together on projects and I am excited to have this opportunity to be able to work with them again and really move our city in the right direction."
With two tightly contested federal campaigns behind him, Spina said he will be concentrating on being a member of the next city council.
"This is my priority right now. The people of this community have chosen their leaders for the next four years and I am committed to being one of those leaders and I am committed to being a voice for our community in whatever capacity they would like me to serve them in," said Spina.
Sandra Hollingsworth came in first place in Ward 1 with 34.7 per cent of the vote.
Her current wardmate, Paul Christian, didn't run this election. Reached by telephone, Hollingsworth said she is looking forward to working with Spina.
"Sonny has, for many years, contributed a great deal to the community in his charitable work," said Hollingsworth. "That speaks volumes about how passionate he is about the community and how he cares for families and individuals. I know he will do a great job."
Brent Derochie finished third with 23.07 per cent of the vote, while William McPhee and Johnathan Lalonde each had just over 5 per cent.
Hollingsworth said she is also looking forward to working with Sault Ste. Marie's mayor-elect, Matthew Shoemaker.
"He has, over the last number of years, shown great leadership and I look forward to working with him and I look forward to him soliciting ideas from all of his council members working as one team," said Hollingsworth.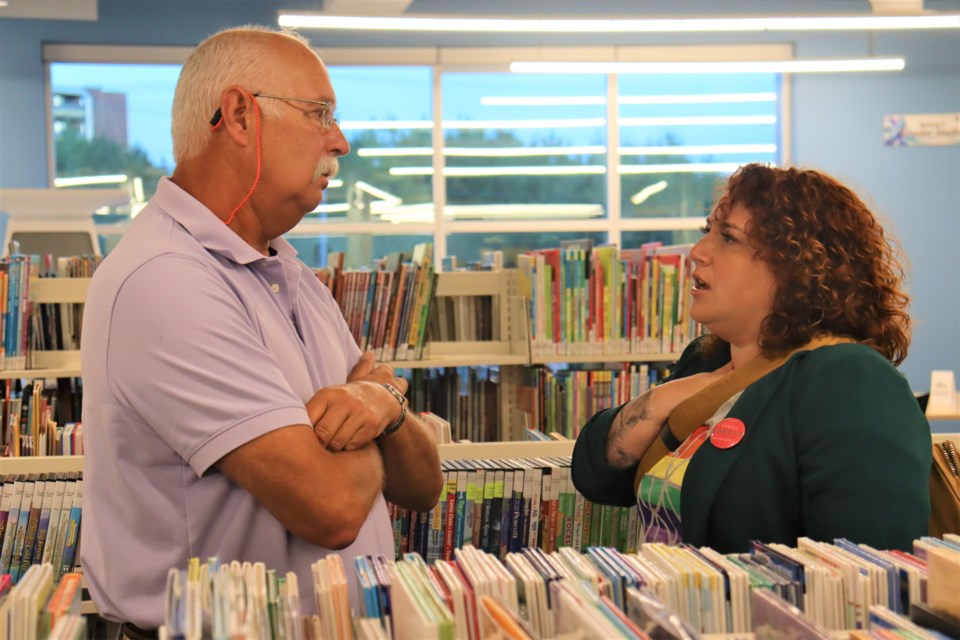 Hollingsworth said every person who ran in the election deserves recognition.
"All of them, in their own ways, have given to the community in the past and I want to encourage them to stay involved through committees, to be involved with different volunteer organizations. The community still needs them," she said.
In Ward 2, incumbents Lisa Vezeau-Allen and Luke Dufour were both reelected.
Dufour finished first with 36.43 per cent of the vote, while Vezeau-Allen collected 32.64 per cent.
"I am really humbled and proud to receive that level of support, two elections in a row," said Dufour. "It's a a pretty significant mandate from the people of Ward 2 and I think it speaks to the amount of things that I spearheaded and championed and delivered results for."
Dufour said he is looking forward to working with everyone in the next council.
"The strength of the last council was really buying into a vision of what Sault Ste. Marie could be and how [it] can grow. We had to embark on some things that were controversial, but ultimately when people see the results they are going to be impressed with the vision that was on council at the time," said Dufour. "I am really hoping with the next council we are going to pick up where we left off. I think there is a tremendous amount of opportunity in the next four years to continue to grow into a nice, modern city."
Dufour and Vezeau-Allen were together on election night at a volunteer watch party at the Marconi.
Dennis Murphy finished third with 16.53 per cent of the vote, while Nick Armstrong had 14.41 per cent.
Dufour said the two work really well together.
"We don't agree on everything but we have done a really good job finding common ground together and building off of shared interests," he said. ""Lisa sees things through a non-profit lens and I come from the private construction development background, so it's really interesting. We come from opposite worlds but we spent a lot of time working together on what our shared interests are and obviously we have a great working relationship and I think it serves the people of Ward 2 well."
Vezeau-Allen told SooToday she has a number of priorities for the next council, including diversification of the city's economic development fund and growing and maintaining the municipal autism strategy.
"I want to embrace the new councillors and see where some of their priorities are and see where there is some alignment. Certainly from me you are going to see developing the economy, maintaining the accessibility and diversity lens and helping those that don't have a voice," said Vezeau-Allen.
She agreed the Ward 2 councillors work well together.
"If anyone has an issue, we want to hear from you and I think that's really important."
Because current Ward 3 councillors Shoemaker and Donna Hilsinger both ran for mayor, there was all new faces on ballot.
Ward 3 will be represented by Angela Caputo, who finished first, and Ron Zagordo.