RW Medical is a company born from an unmet need.
When medical professionals need to order the essential supplies for running their business, responsive customer experience is key.
After realizing the shortfalls rural communities in Northern Ontario (and beyond) were facing—medical supplies sales reps from big companies over-promising and under-delivering, delays and missing items on orders, outrageous travel expenses for medical equipment repairs and expensive shipping rates—Robin Weber decided to address this by providing greater access to the medical resources they needed.
"The gap I was seeing was, overall, a terrible customer experience for the end users. Medical supply orders would be shipped to them incomplete, without getting a heads-up that some of the items they had ordered were on backorder. When contacting supply reps, the response time would be slow and involve waiting on the phone for extended periods of time. There were also long gaps between emails, making the whole process much longer than it needs to be," says Weber.
"Lastly, if you were ordering for a smaller facility, you often felt as though the rep didn't really care about your account. The reps never took the time to get to know your organization, even after dealing with them for months. I thought there had to be a better way!"
He founded RW Medical in 2018 in Sault Ste. Marie, Ontario and the business has grown year over year. "We are not slowing down! We expanded our warehouse capabilities, improved our Canada-wide shipping capabilities and streamlined our operations to be able to offer flat-rate and free shipping," says the GM.
The reception has been great. The company is onboarding new clients daily and often sees repeat orders from their clients, whom they consider partners.
The RW Medical difference
Typically, local healthcare facilities order their supplies from outside the city, Weber explains, therefore they have to wait several days to receive them. RW Medical carries quality medical products at affordable prices and if it's an item they stock, the goods can be delivered the same day. They also work hard to limit the shipping time.
When clients have questions, they are able to speak with an experienced and knowledgeable healthcare professional right away over the phone; they do not have to jump through a frustrating and maze-like phone switchboard. When clients email questions or orders, the company often replies within the hour—compared to the 48 hours you'd normally have to wait with other vendors.
These differences are particularly beneficial for smaller healthcare facilities. Due to the fact that they often have limited storage space, they tend to order more frequently and require, therefore, fast shipping and delivery.
The company's clients come from a variety of industries and include:
Dentists, Dental Hygienists, Denturists, Orthodontists
Aesthetics, Cosmetic injections, Plastic surgery clinics, Spas, Beauty
Family physicians, Doctors' offices, walk-in clinics, Diagnostic clinics
First Nations' health centres, remote clinics
Chiropractors, Physiotherapists, Sports Rehab, Pain injections
EMS, First Responders
Post-surgical centres, Minor procedures surgical centres
Hospitals
Veterinary
Tattoo Artists, Permanent makeup
Cleaning companies
Clients can expect personalized service that is tailored to their needs. They'll have a dedicated rep, someone who understands their business on a personal level, as well as consistent communication. The company offers same-day deliveries, fast shipping and special ordering; they also provide medical equipment maintenance and repair services, as well as first aid training for businesses locally.
Learn more about how RW Medical can help streamline your business, shop online or call 833-922-5962.
About Robin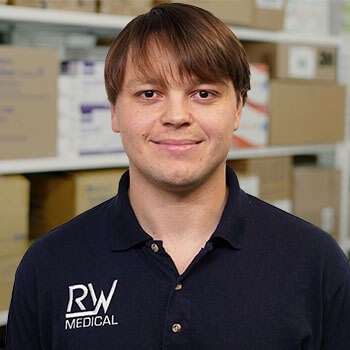 The General Manager of RW Medical is not your typical entrepreneur.
Before starting his company, he worked as a frontline personal support worker in a long-term care setting. He decided to go back to school to learn more about the medical device industry.
His next job saw him working as a Biomedical Technologist at Sault Area Hospital in Sault Ste. Marie. "My job there was to fix and repair medical equipment found throughout the hospital, including the emergency room, operating room, intensive care unit, neonatal intensive care unit, dialysis, and anywhere else medical equipment was found," he says. "On top of repairs, part of my job was to order parts and miscellaneous supplies needed for the equipment."
Later in life, he returned to his hometown of Ottawa, where he worked at the Children's Hospital of Eastern Ontario, performing the same job. He fixed the medical equipment throughout the busy hospital, including the cancer wards, operating rooms, ER and ICU.
It's certainly a big leap from stable employment to working for yourself, but Weber saw an important gap that needed to be filled and it couldn't be ignored.
He realized that because of his unique background, he had the knowledge and skills required to enhance the customer experience; it's what gave him the courage to tackle a problem of this magnitude. He had learned a lot about customer service, maybe surprisingly, he says, from his time working as a PSW.
"I learned how to get to know people from all walks of life and I genuinely enjoyed doing so. As well, my knowledge of the ins and outs of all hospital departments, combined with my technical expertise in solving problems, gave me the confidence to take the leap," he says.
Thankfully, there were supports he was able to draw on. Right from the start he joined a networking group called Strive Young Professionals. Their networking events allowed Weber to meet great people and make numerous contacts. He also received business support in the form of grants from the Sault Ste. Marie Innovation Centre. "My company would not be where it is today if it were not for these community resources," he says.