If you're looking for a fun, friendly atmosphere to go with your winemaking experience, Winexpert Sault Ste. Marie, located at 625 Trunk Road, is the place for you.
This family-run business has been owned and operated for seven years by Nancy Slewidge and her husband, Terry.
"I was in childcare for 30 years, the first 20 running my own daycare at home, so I could be home for my sons," said Slewidge. "After 20 years, my youngest son, who was 17 at the time, wondered if I could find somewhere else for the little rugrats. I applied and became supervisor at the YMCA's child centre here, and was there for another 10 years."
After that, Slewidge was ready for a change. Terry knew the then-owners of the Winexpert in the Soo, who were looking to sell, and the deal was made. Said Slewidge, "They were our friends, I was making my own wine there before, and I know winemakers are happy people, especially when they are saving all this money."
Slewidge has been in the Soo since 1976 and her husband was born and raised here, as were her two sons. She has two grandsons, ages seven and four. "We are all about the community," said Slewidge. The business sponsors local t-ball and baseball, as well as the local fire station's campaign for Muscular Dystrophy. "We also sponsor the YMCA, anything I can do to help them, I jump at, they make such a difference for families and children here," said Slewidge.
Winexpert Sault Ste. Marie has two bottling stations, and an extra manual bottler that is brought out in Christmastime. A large selection of wine kits is offered, as well as making and bottling supplies for the do-it-yourselfer.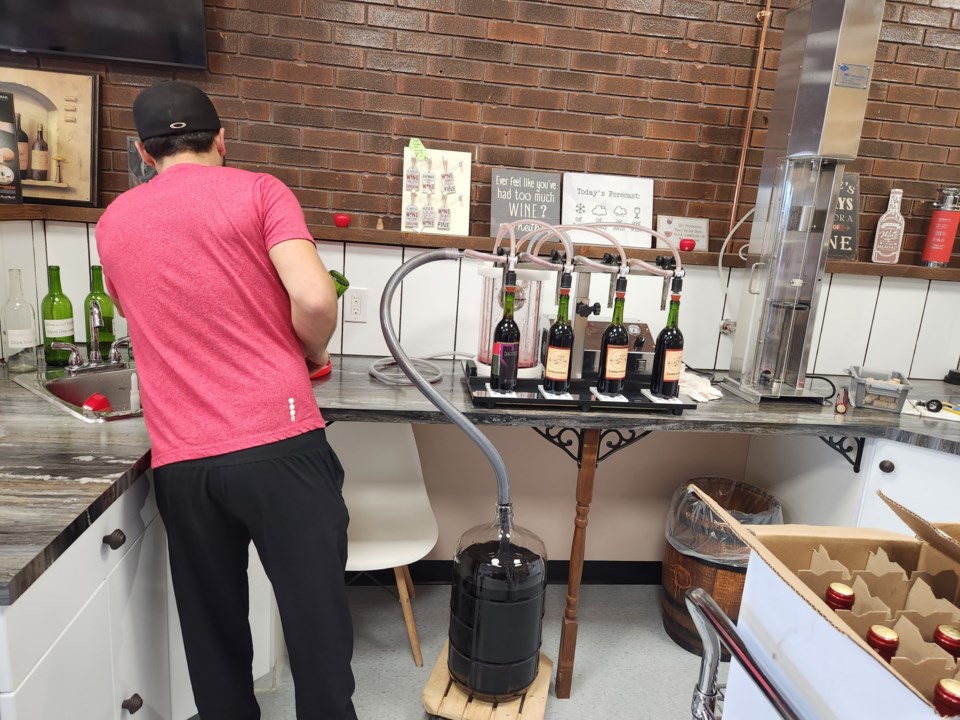 "About 80% of our customers get us to make the wine, and then come and bottle it onsite," said Slewidge. "The rest, make it at home. I am happy to help those who make wine at home, I can order them supplies, and I always give them my card and tell them to call if they have any questions."
Saturdays, Terry comes in and helps Slewidge in the store. "We have a lot of couples come in and bottle on Saturdays," Slewidge says. "We team up, boys against girls, and you know who always wins."
"I like to make a difference," Slewidge offers. "Customers come here once and leave as friends. They come more than once, they are family. If I can't get them to laugh, no one can."
For more information on Winexpert Sault Ste. Marie, follow the Facebook page here.