Builder Dan Fremlin remembers his childhood fondly. He spent hours playing road hockey with his friends, riding his bike around neighbouring streets, walking to school and playing in the park. He thinks every child deserves the same.
He and his wife have a 17-month-old son. Nothing brings him more joy than seeing little ones riding their bikes or out for walks with their parents. "It's so nice to see," he says, "and it's a great way to grow up in that type of environment."
At the same time, he recognizes that buying a home is the biggest investment most people will ever make. "I don't think it's fair that a young family in their 30s with kids can't find a great place to live. A nice house shouldn't just be for people who make X amount of money," he says. "Everyone should have an opportunity to experience subdivision living."
Queensgate Greens is a 92-lot subdivision that will be completed in three phases. The first release, late summer or early fall, will contain 28 residential lots. The clean-lined bungalows and two-storey homes will be located on the old Queensgate Golf Course.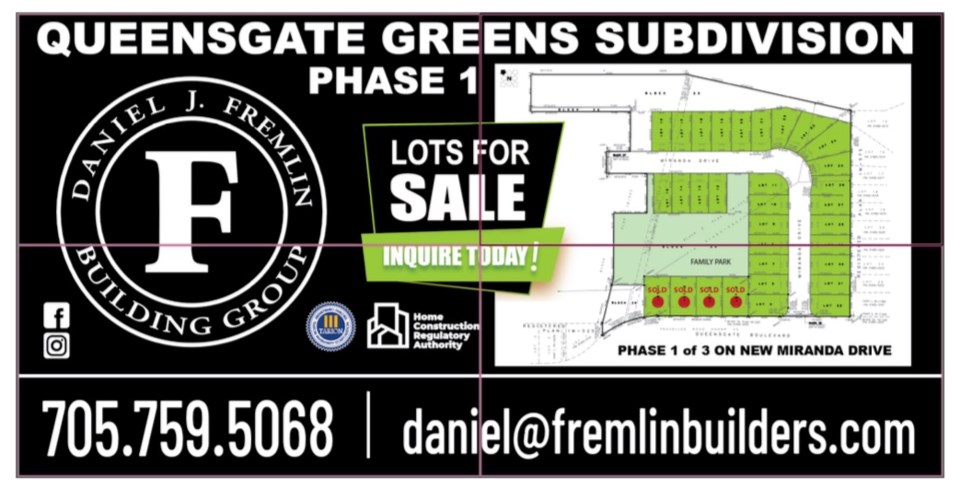 Fremlin and his team have been quietly working behind the scenes on this for over a year and a half. They've put a lot of thought and care into planning these homes, thinking about the families who will be living there. This development includes options: different models at different prices. That way all children can enjoy the company of other kids and reap the benefits of being part of a great subdivision, he says.
They hadn't planned on releasing anything for a while, but the builder has been fielding calls daily. "The housing market is going crazy right now," he says. "The amount of calls I've had in the last two to three months is overwhelming. We are going to market earlier than expected because of the demand."
Part of that growth may be due to people finally realizing what a gem the Soo is. The city is growing, thanks to Algoma Steel and big investments from Tenaris, among others. It has a low cost of living, great restaurants, beaches and lakes. "Also, our Mayor and City Council have been doing a tremendous job supporting development and growing our city. We forget how fortunate we are living in the Soo. People are starting to see that now," says Fremlin. "I couldn't imagine a better place to raise a family."
He worries, though, that young families still don't have enough options, especially in the east end, a part of town he loves.
For Queensgate Greens he envisions a premier neighbourhood filled with houses, happy families and a beautiful park. A subdivision close-by was built 15 years ago by renowned businessman/builder Tony Ruscio, the creator of the original Queensgate. Ruscio has become a key figure in Fremlin's life—he considers him a mentor, even a good friend. The park is named after him. The plan is for these new homes to tie into the existing area.
Queensgate Greens is located in an ideal spot; it's quiet, there's a high school and an elementary school close by, as well as walking trails and grocery stores. You're even close to great camping spots and Echo Bay. It's got a lot of potential, he says. It's the perfect spot to create a thriving subdivision for families, a real community for parents with young kids or kids in high school.
"It's a beautiful thing to see kids playing outside and having fun, especially when you look at the last year and what we've all been through. Now that I have a child of my own, I appreciate that even more."
Fremlin couldn't have had a better childhood growing up. He hit the lottery, he says. "It was great, I was very fortunate, and I wouldn't trade it for the world. I would like other kids to be able to experience that too."
For more information, visit Daniel J. Fremlin Building Group or call 705-759-5068.