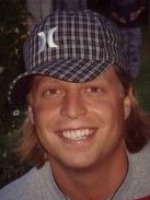 Gone too soon, Adam passed away suddenly on Wednesday, November 7, 2012 at the young age of 30. Loving son of Karen and Dan. Dearly missed brother of Lauren Reed (Rhyan). Adored and cherished grandson of Ken Lajambe (late Noreen) and the late Lawrence and Shirley Reed. Adam was a fun-loving cousin to many and will be fondly remembered by his many aunts, uncles and friends. Family and friends may call at Northwood Funeral Home Cremation & Reception Centre (942 Great Northern Road 705-945-7758) on Sunday evening from 5 to 8 p.m. Funeral service in the Chapel on Monday, November 12, 2012 at 11 a.m. Memorial donations to Ken Brown Recovery Home or Breton House would be appreciated by the family. www.northwoodfuneral.com
Dear Adam,
God saw you getting tired
when a cure was not to be.
So He closed His arms around you
and whispered "Come to Me."
In tears we saw you sinking.
we watched you fade away.
Our hearts were truly broken,
you fought so hard to stay.
But when we saw you sleeping,
peacefully and free from pain,
we could not wish you back,
to suffer that again.
So keep Your arms
around him, Lord,
and give him special care,
make up for all he suffered,
that seemed to us unfair,
so many times we've needed you,
so many times we've cried.
If love could have saved you,
you never would have died.
Love, Mom, Dad & Lauren