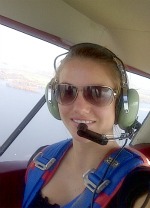 (1992 to 2013)
Has slipped the surly bonds of Earth
And danced the skies on laughter--‐silvered wings;
Sunward she climbed and joined the tumbling mirth of sun--‐split clouds,
and done a hundred things
You have not dreamed of, wheeled and soared and swung
High in the sunlit silence. Hovering there,
She chased the shouting wind along, and flung
Her eager craft through footless falls of air...
Up, up the long, delirious, burning blue
She topped the wind--‐swept heights with easy grace
Where never lark, nor even eagle flew –
And, while with silent lifting mind she trod
The high, un--‐trespassed sanctity of space,
Put out her hand and touched the face of God.
The Kelly and Mehnert Families and Sault College invite all those who knew and Loved Lauren to join us in a Celebration of Her Life this Friday, January 25, 2013, 1:00pm to 3:00pm Sault College Hangar – Sault Ste. Marie Airport 475 Airport Rd, Sault Ste. Marie P6A 5K6
Accommodations are available at Water Tower Inn who offer a free shuttle bus to and from the Airport, and a discounted room rate. Mention "Lauren Kelly Bereavement". For reservations please call 1-800-461-0800.
In lieu of flowers, donations would be appreciated to the Lauren Kelly Memorial Scholarship Fund, Sault College 1--‐800--‐461--‐2260 x2704.