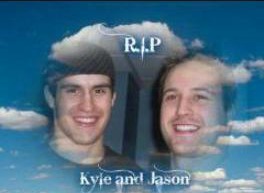 On December 14, 2012, Jason Dorian Chalifoux, born March 7, 1988 and Kyle Marcel Chalifoux, born July 6, 1990, were tragically killed in a vehicle accident in Bonnyville, Alberta. Survived and forever cherished by their parents, Karen and Marcel, their beloved older brother, Ryan (Lorna), their precious little sister, Tiana, niece Sarah, many aunts, uncles, cousins, foster brothers and sisters, and numerous close friends. Pre-deceased by grandparents Margaret and Dorian Albert, Theresa and Maurice Chalifoux, and step grandfather George Bordeleau.
Jason and Kyle were natural athletes excelling at any sport they entered in their early years. In high school, they specialized in wrestling, driven to the sport by 3 outstanding, dedicated and compassionate coaches, Mr. Gowlett, Mr Fryia, and Joe Legacy.
Jason and Kyle immediately bonded with everyone they met, and they loved everyone they met, without prejudice.
Jason and Kyle were not only brothers, but best friends. They embarked recently on a journey to Alberta to commence new careers. Their lives were taken too soon and our hearts will be broken forever. But, their loving and caring spirit will live on in us for eternity.
Friends and relatives may call at the Blind River community Hall on Friday, December 21 from 2 to 4 pm and 7 to 9 pm. Funeral mass to be held on Saturday, December 22 at 10 am from St James the Greater with Father Jackson.
Donations to the Canadian Downs Syndrome Society would be greatly appreciated. www.beggsfh.com