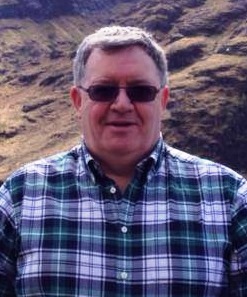 NEWS RELEASE
LAKE SUPERIOR STATE UNIVERSITY
*************************
SAULT STE. MARIE, MI – Dr. Gerry Mooney of the Open University in Edinburgh, Scotland, will travel to Lake Superior State University this month to discuss the recent failed campaign for Scottish independence and what it means for the country's future.
He will present "Constitutional Futures: Where now for Scotland and the UK following the Scottish Independence Referendum?" at 6 p.m. on Wednesday, October 22, in the LSSU Arts Center.
Everyone is welcome to this free public program.
In addition, university students interested in studying in Scotland for a semester through the Experience Scotland Program with University of Wisconsin will be able to find out more information at this presentation.
Mooney is a senior lecturer in social policy and criminology, faculty of social sciences, with The Open University in Edinburgh, Scotland, and currently is a visiting professor in Scottish studies at University of Wisconsin-River Falls.
He has written widely on issues relating to Scottish society, Scottish devolution, and on a range of issues and subjects from social policy and social welfare, poverty and inequality through to criminology and criminal justice, urban studies, industrial relations and social and geographical inequalities and divisions in the modern city.
"We are very pleased and honored to have Dr. Mooney and members of the Experience Scotland Program visit LSSU," said LSSU President Tom Pleger. "We are excited to explore a collaboration with this study abroad program and believe it would be attractive to our students, faculty, staff and community members."
"The 2014 Scottish Independence Referendum concluded that Scotland should stay within the United Kingdom – but for how long?" Mooney writes. "For some commentators, the No to Independence for Scotland outcome means that the issue of Scottish Independence has been killed off for some considerable time! The reality is far more complex and the future even more uncertain.
"A referendum that has appeared to give support to the continuation of the UK as we know it today has at the same time opened up a wide ranging set of questions which are now – and will continue – to shake the foundations of the UK to its very core. There is now something of a constitutional crisis in the UK – and resolution of which can only appear to be at the benefit of one of the constituent countries of the UK and not for others. Looking ahead, are we facing more uncertainty and towards a gradual but certain disintegration of the UK?"
Mooney will answer questions from the audience at the conclusion of his program.
Mooney holds a bachelor of arts degree in social sciences from University of Paisley, and a Ph.D. in sociology from University of Glasgow.
He has been teaching at The Open University for more than 25 years and previously was a senior lecturer in sociology and social policy at the University of Paisley, now the University of the West of Scotland.
He has also taught at University of Abertay Dundee, University of Glasgow and University of Stirling, and has lectured at the Centre for British Studies at Humboldt University in Berlin.
Since 2006, he has been an Honorary Fellow of the Centre for British Studies and was recently a visiting professor in the Department of Geography and Sociology at University of Strathclyde.
Read more about Mooney's publications at https://www.open.ac.uk/socialsciences/staff/people-profile.php?name=Gerry_Mooney
More on what he has written about Scottish Devolution and the Independence Referendum may be found at: http://www.open.edu/openlearn/profiles/gcm8, and he has recently written blogs at https://theconversation.com/profiles/gerry-mooney-123416/articles
*************************