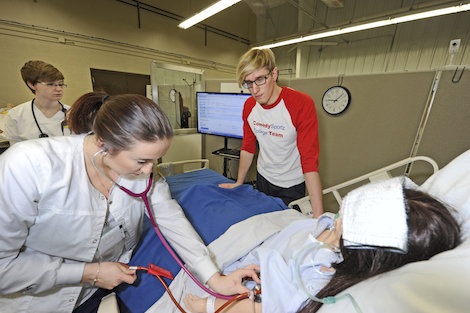 PHOTO RELEASE
LAKE SUPERIOR STATE UNIVERSITY
*************************
SAULT STE MARIE, MI – Lake Superior State University student Sam Carter portrays a concerned spouse as nursing students Elizabeth Allen-Pancheri (foreground) and Robyn Waybrant tend his mannequin-wife in LSSU's Simulation Center on January 30, in Sault Ste. Marie, Michigan.
Carter and 17 other student members of LSSU's ComedySportz College Team improvisational troupe are applying dramatic training to supplement the Center's five computer-controlled, wireless mannequins that do many things real humans do, including bleed, blink, cry, and even deliver a baby.
For his work, Carter gains academic credit towards a speech and drama minor.
Run a Web search on "LSSU Simulation Center" to learn more about LSSU's nursing program and its burgeoning simulation center.
Follow "LSSU theatre" on Facebook to keep up with productions and other activities.
Carter, from Kincheloe, Michigan, is a senior in literature/creative writing.
Waybrant is a junior in nursing minoring in human nutrition; Allen-Pancheri, a senior in nursing.
Both are from Sault Ste. Marie, Michigan. (LSSU/John Shibley)
*************************