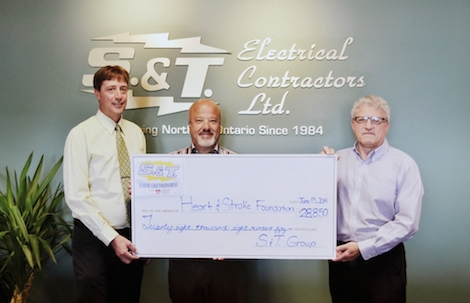 NEWS RELEASE
S. & T. GROUP
*************************
It all started in 2001 with Andrew Sarlo and Dennis Tatasciore, owners and operators of S. & T. Group.
They are both passionate about helping others, living healthy lifestyles and have a love for the game of golf.
The two local philanthropists decided to embark on a partnership with the Heart & Stroke Foundation to raise not only money, but strong awareness of heart disease and stroke.
Both Dennis and Andrew have felt the serious effects of heart disease and stroke over many years throughout their family members and close friends.
This partnership over the last 13 years has been very rewarding for both S. & T. Group and the Heart & Stroke as they have raised $275,000 for the foundation.
This great achievement also reflects the growth of the company itself; 2014 marks 30 years of business for the two local electricians.
Since 1984, Andrew and Dennis have operated in Sault Ste. Marie and surrounding areas and will continue to serve their biggest focus; the customer, for many more years to come.

This year on Friday, June 13, the S. & T. Classic Golf Tournament raised over $28,000.
They also switched things up by having a live auction with Vernon Bailey, which was very entertaining and got the participants warmed up and excited after a long day of very wet and cool temperatures.
The weather didn't get everyone down, as the dinner was hot and laughter and conversations were alive and well.

If you are interested in participating, donating or volunteering with the S. & T. Golf Classic please contact Cara Yakasovich at 705-942-3043 for more information.

For further information on S. & T. Group and their services please visit www.stgroup.ca or call 705-942-3043.
*************************